Ten... Bedroom Gadget Treats
Dream machines
---
Product Round-up

Sleep deprivation: a tactic for special ops assignments and a gift of nature to parents with newborns. Either way, not enough kip can feel like torture and likewise failing to get a chance to unwind of an evening will take its toll.
Given current property prices, the bedroom often doubles as a home office, a TV den and a sanctuary from others but, above all, they're about sleeping. The gadgets featured here are geared towards relaxing or sleeping in the boudoir and helping you to wake up refreshed. I've included a bedroom-sized telly, but in the spirit of creating a relaxing refuge, there's no games console or computer.
Harvard TV Bed

This fantastic bed comes in either black or brown leather and features a high headboard, perfect for propping yourself up with an armful of cushions. Once propped up you could elect to read a book, or watch a movie on a tablet or laptop, but this bed has a neat trick up its sleeve, or at least in its end-panel. It can house a TV up to 32in in size and 10.5cm thick. The TV lifts up when you want to use it and slides back down when you don't. It comes in king or super king sizes and has a storage compartment one side.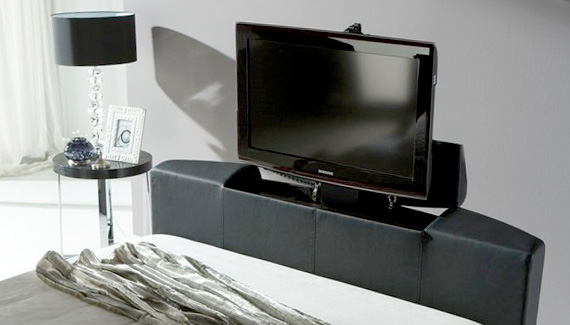 JBL On Air

JBL's isn't the best-sounding Airplay speaker system around, but you can't fault its features. As well as the ability to stream music wirelessly from iTunes on a PC or Mac, or an iOS device, it has an FM radio and alarm, along with a colour LCD which displays album artwork and track names. There's also a socket for charging your iOS device while you sleep. It's a cinch to set-up too, so you won't have to fiddle around with IP addresses or Ethernet cables to hook it up to your network.