This article is more than 1 year old
Bulletproof iPhone case set to survive shootouts
Protected in iRaq?
We've seen some odd smartphone cases over our time, but this bullet-proof beast, heavy enough to crush a chap's toes, is a fine contender for the crown.
Madurai's Armoured Case 1 for iPhone 4/4S weighs in at 2.1kg and warns of serious injury should it be dropped on a hapless hoof.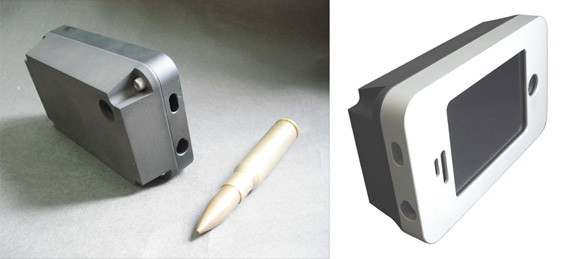 It is apparently the world's strongest iPhone case, "designed for a direct hit of a 12.7mm bullet", as Google translates the original Japanese.
Despite this, the manufacturer insists it will not be held liable for damage and that nothing is guaranteed, particularly if you do decide to pop a cap in its backside.
In fact, Madurai admits "there is no practical use" for the case at all, which comes in both black and white versions and ships with a "dummy" 12.7mm bullet casing. Why not, eh?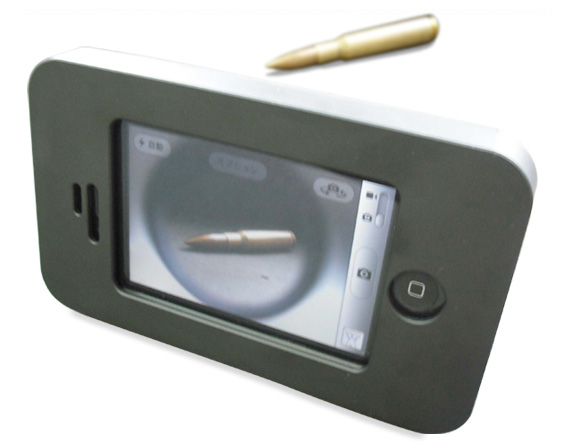 Unfortunately, the weight means you should call with both hands and avoid placing it directly on tables as it would likely cause scratches. There is also the issue of a limited camera view, so those daring photographs of a front line firefight will be tainted with a vignette-like effect.
Still, if you fancy a case coated in plate armour with an anodised aluminium front cover - and you're over 18 years of age - you can pick one up for ¥52,500 (£411).
Picking it up literally might be more of a problem, though. ®