This article is more than 1 year old
Lesser-spotted Raspberry Pi FINALLY dished up
Cheap-as-chips ARM computer hits doormats
The credit card-sized ARM-powered Raspberry Pi is finally shipping, at £30, allowing thousands of middle-aged dads to achieve their adolescent dreams of computing nirvana.
Shipping was supposed to happen last month, but problems with a couple of components, and getting the CE mark organised, delayed things slightly. The first devices arrived at the distributors at the tail of last week and all pre-ordered boards should be in the hands of customers by 20 April.
These are still Model B, which lists at $35 and features a pair of USB ports along with Ethernet connectivity. The stripped-down Model A has only one USB and no Ethernet, but should sell (wholesale) at $25 a pop.
Those are the prices listed by the UK charity that designed and sourced parts for the board, but over at retailer Premier Farnell we can see the actual price is £29.45 once shipping and VAT are included.
The Raspberry Pi is supposed to interest kids in computing, so lots should be sold into schools (though, weirdly, UK schools will have to pay VAT even if they can reduce the cost of shipping). Premier Farnell's Element 14 bods invited a group of children in Leeds to their office on Friday afternoon to hand out their boards, and the Raspberry Pi Foundation team gave a lesson on how to get started with the kit.
The boffins behind the 'Pi like to compare the product to Acorn's BBC Micro which, back in the 1980s, found its way into millions of middle-class homes* and instructed a generation in just how limited an 8-bit computing environment can be.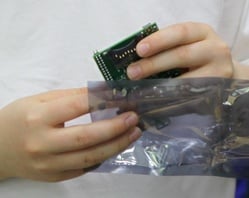 Schoolboy error: A Leeds lad holds his
Pi straight from the anti-static bag
Lots of 'Pis will, no doubt, be bought by dads who remember the Beeb, and hope the Linux-based bare circuit board will encourage their own offspring to pick up some light Python, Ruby or even a little C++ for laughs.
Having passed off the expense as educational they'll then get down to building the toys they wanted when they were kids, but weren't possible at the time, all in the interest of inspiring the next generation of course.
Knowing about computers used to be a route to cheap computing, just as knowing about cars used to be route to cheaper driving, but these days the motivation to learn is harder to find. It's far from obvious that dad's half-built-pinball-machine is going to get junior excited about compiling a new Linux kernel, but when the worst-case scenario is homemade pinball then it's probably a risk worth taking. ®
* Your correspondent is just bitter, having done all his early programming on a rubber-keyed Speccy.