This article is more than 1 year old
Seagate profits from Thai flooding
Luczo's luck
Seagate made huge profits of $1.1 billion on revenue of $4.4 billion in its third fiscal 2012 quarter, following a very successful second quarter.
The company shipped a record 61 million hard disk drives in the quarter; a 29 per cent increase over the second quarter and 25 per cent higher than a year ago. It is still benefitting from its operations being relatively unaffected by the October 2011 Thai flood disaster and it's creaming profits. If we look at a chart of net income as a percentage of revenues over the past few quarters we can see the profit jump this quarter in perspective.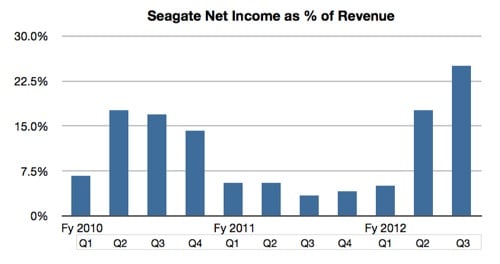 Profits as a percentage of Seagate revenues
Revenues have shot up as well, with a chart again showing the trend over the past few quarters. Third quarter revenue was 37.5 per cent higher than the $3.2 billion in the second quarter, and 63 per cent higher than a year ago. Gross margin was 37 per cent.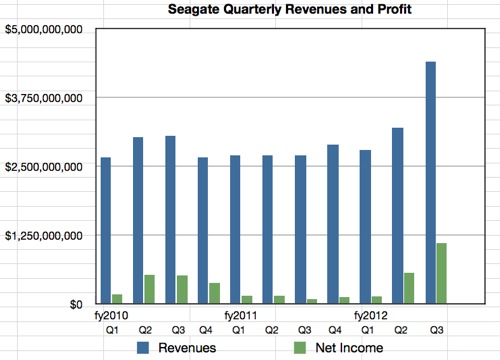 Seagate quarterly revenue and profits for fiscal 2010-2012
Chairman and CEO Steve Luczo said; "Seagate delivered strong performance this quarter by concentrating our efforts toward supporting our customers as the recovery of the hard drive industry continues to progress."
Yes indeed; Seagate helped its customers by shipping drives and it helped itself as well. People might consider Seagate is profiting from the Thai flood disaster somewhat enthusiastically, thinking that customers couldn't go elsewhere, WD being supply-constrained.
Luczo added; "Importantly, during this challenging period, Seagate has successfully transitioned its portfolio to industry-leading products across all markets thereby positioning the company for continued leadership through operational excellence."
I don't know that we can call the past six months a challenging period, not when Seagate's profits were 17.6 per cent of revenue in the second quarter and 25 per cent in the third; with customers willing to pay the prices that seems a pretty benign environment for a business.
Seagate issued a commentary about the disk drive market this quarter;
- The Total Addressable Market (TAM) for enterprise disk drives was up 25 per cent over the year-ago quarter and Seagate shipped 7.4 million enterprise drives
- The desktop and mobile drive TAM was down 9 per cent year-over-year and Seagate shipped 43.8 million of these drives.
- The consumer electronics (CE) and retail disk drive TAM was down 25 per cent year-over-year and Seagate shipped 9.5 million of these drives; 6.8 million CE and 2.7 million Seagate-branded drives through the retail channel.
The company boasted it shipped over 1,000 disk drives per employee and was building 10 disk drives a second at the end of the quarter. It expects to be at targeted capacity levels by the quarter after this one, suggesting that next quarter could see storming results as well, making for a terrific full year.
Since Luczo ejected CEO Bill Watkins in January 2009 and took over the reins himself, Seagate has gradually, and now triumphantly recovered. It pleases shareholders with share repurchases, dividend payments, a better areal density showing across the product line and the hybrid drive idea. Luczo's obviously enjoying himself and shareholders will not want him to give up the CEO's job.
Over the full 2012 fiscal year Seagate may well be the unit shipment and revenue leader in the industry, a prospect which seemed highly unlikely three quarters or so ago, when WD was riding high.
Not to be at all dismissive of the horrendous effects suffered by the Thai people as a result of the floods, but in naked business terms the Thai flood disaster has turned into Luczo's luck. ®