Pic Elon Musk's SpaceX is getting ready to make history after its Dragon spacecraft was given the go-ahead for a 30 April launch for its resupply mission to the International Space Station.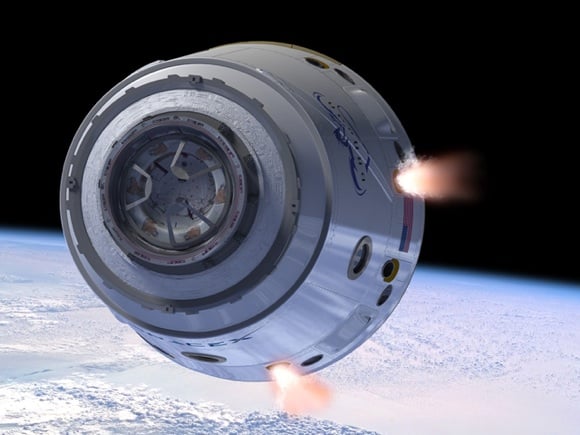 The cargoship test flight, assuming it goes off without a hitch, will mark the first time a commercially made spacecraft has ever blasted off to visit the ISS.
NASA and SpaceX officials met yesterday in Houston for the Flight Readiness Review, a typical part of pre-launch prep at the agency, and confirmed that the Dragon and its SpaceX Falcon 9 rocket were on track for the end of this month.
"Everything looks good heading to the April 30 launch date," said Bill Gerstenmaier, NASA's associate administrator for Human Exploration and Operations, in a canned statement.
The Dragon is due to blast off from Cape Canaveral at 12.22 EDT (16.22 GMT) carrying 1,200 pounds of cargo.
Because this is a test flight, the cargo isn't critical stuff for the astronauts, but NASA and SpaceX are still hoping to see the ship fly close enough to the station for its robotic arm to grab it and berth it, which is the tricky bit.
Astronauts will then offload the cargo and reload the Dragon with 1,400 pounds of material to take back to Earth. The entire mission is expected to take around 21 days.
SpaceX has already proved that the Dragon can clear Earth's atmosphere and fly about, and even be retrieved from the Pacific Ocean when it comes back, but the software to get the craft to fly right beside the fast-moving ISS and stay there has not been tried.
"The thing that's really being tested on this flight is proximity operations and the berthing system," SpaceX CEO and chief designer Elon Musk told reporters at a briefing.
The test flight has been delayed several times while SpaceX made sure both the Dragon capsule and the Falcon 9 rocket were ready to be tried.
"A lot can go wrong; the rocket needs to perform as well as the space craft," Musk said, adding that there was still plenty of time to get it right. "This is a test flight so if we don't succeed in berthing we have more missions later this year."
If the flight is totally successful, the Dragon could start making regular trips for NASA from later this year. ®