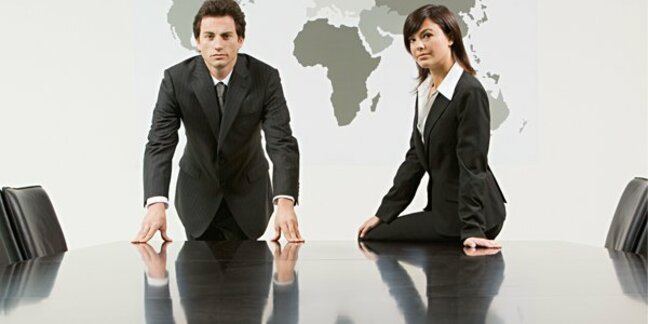 Blighty's public sector IT bean counters face a bewildering mess of overlapping tech purchasing bureaucracy, channel sources have warned.
Three wide-reaching frameworks that direct government tech spending will end up running in parallel into next spring, potentially confusing purse holders.
Of the three schemes, one is the £4bn IT Hardware & Solutions (ITH&S) framework, led by the Government Procurement Service (GPS), which put out an Invitation To Tender on 31 January. Businesses will be told at the start of next month whether they have made it onto the list of approved suppliers, and the two-year pan-government framework will commence on 1 June.
In a Q&A document accompanying the tender, sent to El Reg by a bidder, GPS confirmed that ITH&S will directly replace ESPO Contract 113, an IT purchasing framework that served local councils and occasionally veered into education. The ESPO contract is set to expire on 1 June following a three-month extension from March.
However, a second framework, the Commoditised IT Hardware and Software (CITHS) deal - which covers nearly all corners of public life with specific focus on health, local authorities and some central government organisations - will continue until April 2013 when its future will be reviewed.
And a third framework, Sprint ii, will also run in parallel until April next year. This is a HMRC agreement run by GPS that provides kit to central government but controversially had made inroads into police authorities - a move that is being reviewed amid potential plans to set up a police procurement organ.
"It will be very messy," said one firm bidding for place on the ITH&S list. "Customers will inevitably be confused about which framework they should be using."
ITH&S has been crafted to serve most parts of public sector too, playing to Cabinet Office Minister Francis Maude's agenda of pulling together government purchasing power. The deal could be extended by another year on two further occasions, and covers 12 lots, ten of which are geared toward Cabinet Office tech gear specifications and two for non-standard desktop and networking kit.
Only three suppliers will be certified on seven of the lots and vendors have already warned that reseller involvement in ITH&S may be limited as the cut-throat pricing restricts available margins.
The first ten lots will also be subject to e-auctions that should drive further margin erosion in the race to base level pricing.
The Coalition wants to spend up to one quarter of government budgets with SMEs by 2015 but ITH&S covers the supply of commodity kit, and the small biz sector will struggle to provide any innovation.
The pre-requisites of the deal also preclude SME participation - resellers need to demonstrate they've sold 56,500 desktops and 14,800 laptops in the last twelve-month period.
GPS no longer has a press office - it was shed in a round of cuts - but was endeavouring to respond to questions at the time of writing. ®
The ITH&S lots out for tender
Lot One - client device hardware and services - three suppliers expected
Lot Two - laptop - four suppliers expected
Lot Three - tablet/slate - five suppliers expected
Lot Four - monitor - three suppliers expected
Lot Five - thin client - three suppliers expected
Lot Six - servers - three suppliers expected
Lot Seven - storage - three suppliers expected
Lot Eight - switches - three suppliers expected
Lot Nine - printers - five suppliers expected
Lot Ten - standard peripherals - three suppliers expected
Lot Eleven - non-standard desktop - five suppliers expected
Lot Twelve - non standard infrastructure - eight suppliers expected
Sponsored: Webcast: Simplify data protection on AWS