Microsoft has been showing off updates to Intune and System Center Config Manager which allow BYOD users to download and manage company-approved iOS and Android applications or run them via VDI.
For his closing keynote at the Microsoft Management Summit (MMS) in Las Vegas, Brad Anderson, corporate vice president of the management and security division, made a strong pitch for companies to let staff use their own devices for work. He said those that don't wouldn't be able to recruit the top people - although he rather may be a little optimistic on the topic.
"Your users will be wildly, wildly happy, they'll be more productive, they will look at you honestly as their hero," he suggested. "As you do that your organization will be differentiated and will be able to attract greater talent because you will have a policy and an infrastructure that these really talented individuals will want to come and work for."
But there was an important psychological issue at play he warned, and it boiled down to control – if someone's bought their own device then they want to run it. So the updates allow users to download and use apps from the Android and iOS markets that have been specified as safe for corporate data by the policy set centrally by the firm.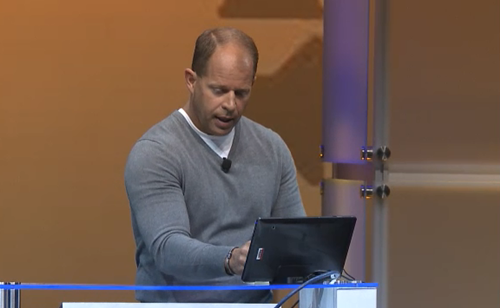 Brad Anderson shows off his Windows 8 tablet
In practice Microsoft reckons the easiest way to do this is for companies to set up their own sites for approved applications, and it has released Company Portal code for this purpose. Authorization is handled via Active Directory and those apps deemed unsafe can be run in a VDI environment. Anderson demonstrated the system on the Windows 8 tablet he's been running for the last few months.
It did seem as though the spirit of Steve Jobs was in the room when an attempt to show how the system worked on an iPhone failed. After some struggling Anderson was forced to describe it instead, although a cameraman was dragooned in to take a very oblique shot at the end of the session to convince the audience the system actually worked.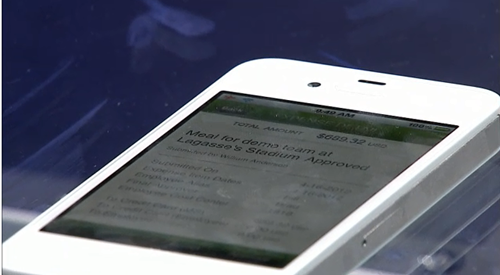 "It works, honestly!"
On the VDI front, Anderson said there had been significant improvement to what is often a poor user experience and a storage headache for IT managers. The new Intune will use the app streaming and cache sharing tools Microsoft has been beta-ing with its Microsoft Desktop Optimization Pack users, and Anderson promised big reductions in storage costs for even the most inefficient VDI operations.
The beta code for Intune and System Center Config Manager will be released at around the same time as Windows 8 Anderson said, which means on launch day since an additional Systems Center update was promised with the Windows Server 2012 release in Tuesday's keynote.
He closed off the keynote by informing the audience that next year's MMS will be next June in New Orleans. The collection of bead necklaces by flashing one's ample chest is encouraged in some of the wilder quarters of the city, although given the show's demographics that will mostly be down to male developers. ®