The NFC Forum is hoping a more laid-back approach to licensing will encourage use of its N-Mark logo, but those deploying NFC are still playing fast and loose with branding.
Since admitting it had failed to protect the term "NFC" and the long form "Near Field Communications", which are both now generic terms, the NFC Forum has been trying to use its N-Mark logo as a hook to get companies interested in its certification service, with very-limited success. So now the forum has thrown open the logo to anyone prepared to sign a document saying they're compliant, in the hope of becoming the recognised standard.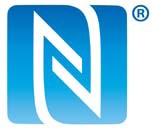 N-Mark, the new name for NFC,
which was never called NFC
apparently.
It was China Telecom that surprised the world in 2010 by announcing that its home-developed RF-SIM, a powered radio operating at 2.4GHz, was "an NFC technology". NFC normally operates at 13.56MHz and is powered by induction from the reader, and the standard promoted by the NFC Forum includes communications protocols and secure application architectures as well as the radio interface, but it turns out that anyone can their pay-by-bonk product "NFC" if they want to.
The standard is popping up all over the place – car parks in Tunbridge Wells are now sporting NFC stickers, so drivers can just tap a phone against the sticker to say which car park they're in. That only uses NFC like a barcode, but in common with most NFC deployments the stickers sport an amalgam logo rather than the proper N-Mark sign.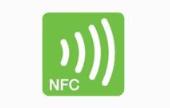 A portmanteau of a logo
from PayByPhone
Microsoft requires that Windows 8 devices have a visible logo indicating where the NFC chip is (Windows 8 requires an NFC Forum-compatible NFC chip). That's important as the use of induction really does limit the range of proper NFC to less than the width of a laptop.
The NFC Forum isn't optimistic that Win8 kit will sport the N-Mark, but it optimistically told NFC Times that perhaps its logo could go alongside the MS-approved offering. ®