This article is more than 1 year old
Sony whips out new optical mass storage format
Hirai's bid for glory looks a lot like Blu-ray...
Sony has seen commercial optical data archiving systems fail one after the other: from Blu-ray to DVD and HD DVD. But the firm is either learning from its mistakes or readying itself to make new ones as it launches yet another new proprietary optical disk archiving product and format.
The announcement was made at NAB, the big digital media industry bash currently underway in Vegas, and the product – the ODS-D55U – is a desktop drive that takes ODC1500R disk cartridges. These have from 300GB to 1.5TB of capacity. Quad-layer Blu-ray optical disks store 128GB. The hVault holographic optical disk should store 300GB.
An ODC1500R has 12 disks inside it, we understand, which are treated as a single 300GB-to-1.5TB volume. A 12-disk 1.5TB capacity equates to 12 x 125GB disks, which is suspiciously close to a quad-layer Blu-ray disk. Perhaps we should call it New-ray.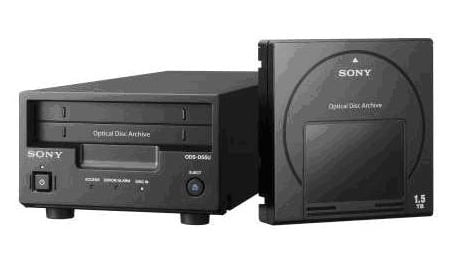 Sony Optical Disk Archive system
We have no details of how data is read from and written to the 12 disks. If it is done in parallel then that will improve I/O speed a lot. If it isn't, then I/O speed will be slow.
The optical disk versus tape pitch is that there is no need to "re-archive copies of past archive data, offering a more user-friendly and dependable long-term storage solution." Sony also says the new system will provide faster access to data than tape. We have no I/O speed data.
Sony is also making LTO-6 tape, storing 3.2TB of raw data, by the way.
Optical Disk Archive Advisory Group
Sony is forming an Optical Disk Archive Advisory Group, open to media and entertainment companies worldwide, to promote adoption of its new storage format. Twenty such companies have signed up, including BSkyB, CBS News, Time Warner Cable Sports and others. The group is meant to study how optical disks could feature in their workflows and develop application software to manage assets on the disks and distribute them.
On top of that Sony wants to get media archive systems developed and aims to work with storage media, robotics, and software for hierarchical storage management and control, media management, and search.
Some progress has been made here. ASG-Atempo, Dalet, Front Porch Digital, Harris, SGL, Square Box Systems Ltd, TDK Corporation, and Vizrt have said they support the Optical Disk archive, with TDK agreeing to manufacture the disk media under license from Sony.
Sony envisages client workstations and servers talking across a LAN to a Media Asset Management System. This links to a Robotics Control and Storage Management Middleware box which, in turn, talks Fibre Channel to an Optical Disk Archive Library containing cartridges in slots, robotics, and drives.
It also envisages that there will be future generation cartridges holding more data, and future drives capable of reading the first generation and subsequent generation cartridges – pretty standard upgrade stuff really. It calls its ODA format an open platform on this count which is, frankly, rubbish. It's a proprietary Sony platform.
The precise optical technology being used is not revealed. It will, pretty obviously, use lasers but, beyond that, we know nothing for sure, although we suspect it's Blu-ray. There are no prices available for either the drive or the cartridges.
Sony reckons tape is inadequate
Sony people must absolutely feel that movie, video and entertainment companies need a mass storage system that is faster than tape yet less expensive than hard disk drives. Stacking a dozen Blu-ray-type disks in a cartridge and doing parallel I/O would fix the data access speed issue but Sony has not mentioned anything about parallel access at all, which is odd.
Looking at the cartridge picture, it would seem that, if there were twelve disks inside it they would be packed closely together with little space between them for read-write heads. Does the drive extract the disks from the cartridge? There is so much we don't know.
Sony announced it was developing a next-generation optical disk archiving system in September last year and pictured it: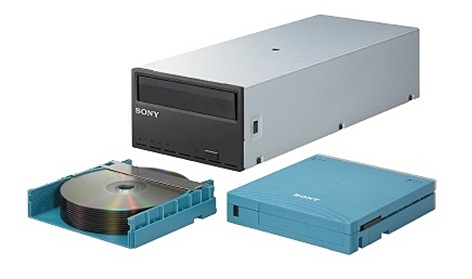 Sony's 2011 12-disk cartridge optical archive system
It said it used the "same optical disc technology used in DVDs and Blu-rays," and:
12 media discs in a firm cartridge enabling data to be handled on a per-file basis, by making the operating device recognise the system as a "single large volume storage unit" rather than by each individual disc. The cartridges are available in both a write-once format and a rewriteable format, with various capacity options from 300GB capacity up to 1.5TB available according to the customer's requirements.
At the time it said that this disk archive storage system was "set to revolutionise [the] video and data archive storage market". That is pretty clearly the precursor to the optical disk archive system announced at NAB 2012, and it does indeed have up to 12 disks inside its cartridge.
I/O speed problem
From the picture above it seems obvious that the individual disks have to be extracted to have data read and written on them. That suggests that each disk is read separately and I/O will not be done in parallel. Comparing tape cartridges in a library with optical disk cartridges in a library, which need individual disks to be extracted for reading and writing, we might suppose that data access speed differences between tape and these Sony optical archive systems would be minimal. Indeed, tape could even be faster.
Sony is looking to restore itself to glory. Howard Stringer has departed as its CEO and new CEO Kazou Hirai is laying off 10,000 staff around the globe. Optical disk technology has failed to set the world on fire; indeed it has caused companies like InPhase and Plasmon to crash and burn.
Can Sony buck this trend? What do you think? Give us and other Reg readers your thoughts in the Sony optical disk archive Storage Forum topic.
The ODS-D55U drive, fitted with a USB 3.0 interface, is meant to be available in the autumn. ®