One new service announced today at the AWS Summit in New York is a blatantly obvious one for an online retailer: an online marketplace to shop for, compare, buy, and install applications from third parties to run on the AWS cloud services.
The Amazon Marketplace, which you can visit here, has over 250 system and application packages available for purchase at an hourly rate. Early peddlers in the AWS bazaar include CA Technologies, Canonical, Couchbase, Check Point, IBM, Microsoft, SUSE Linux, Red Hat, SAP, and Zend Technology, and there are a number of open source packages such as Wordpress, Drupal, and MediaWiki also included. Amazon is also peddling its own Linux packages.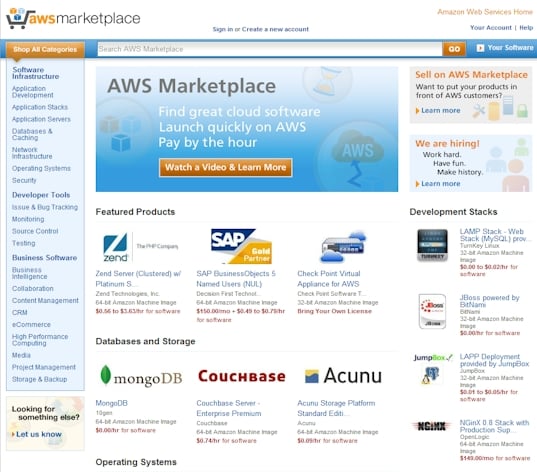 Amazon goes e-tailing with apps for AWS (click to enlarge)
Adam Selipsky, vice president of marketing, sales, product management, and support for the AWS unit, says that Amazon is being careful to vet the applications, particularly with regards to security, and will eventually add ratings for products and sellers as it has with its online store.
Obviously Amazon is thinking a few steps ahead. As everyone else is looking at getting up infrastructure and platform clouds, AWS is looking at making the ease of installation and billing on an hourly rate for systems and application software yet another differentiator.
I can't wait until Amazon tries to tell Microsoft, IBM, and Oracle what prices it can set for its apps.
In a related announcement, AWS has also started the AWS Partner Network for technology and consulting partners, which went into beta yesterday ahead of the AWS Summit.
The partner program has the traditional tiered structure that most IT product providers use, with more benefits as you do more to push more AWS products.
You can be a registered partner, which gets you into webinars and events and doesn't cost anything. To be a standard partner, you shell out $2,000 a year and that gets you a $1,000 credit toward Premium Support services and $1,000 in AWS service credits if you drive $1,000 per month in average billings across your customer base; you also get listings in the AWS partner directory and can use the AWS partner logo in your promotions.
If you want to be an advanced partner, you shell out $2,000 a year to register and if you drive more than $25,000 per month in average AWS billing, you are given an advanced listing and get to use advanced logos. Advanced partners also get the $1,000 tech support and $1,000 AWS service credits. So you get your bait back either way. ®
Similar topics