Amazon to all data centers: Keep up, if you can
End is nigh for private server fleets
---
It's no secret that the utility computing offshoot of online retailer Amazon thinks that it can build a better data center for running Web applications than you can.
But the news today, along with the launch of an online store for buying apps and deploying them on the Amazon Web Services cloud, is that the company thinks you will eventually believe this, too.
Werner Vogels, CTO at Amazon, said that there are now hundreds of thousands of companies around the world using AWS to run all their business, or at least a portion of it. They are located across 190 countries, which is just about all of them on Earth.
"These are mainly popular internet businesses," Vogels said during his keynote address at the AWS Summit in New York, and referring to a chart showing off the high-profile companies that have chosen the Amazon cloud as their application platform. "In the past year and a half, we have seen tremendous growth in enterprises using AWS, and it is in all kinds of industries."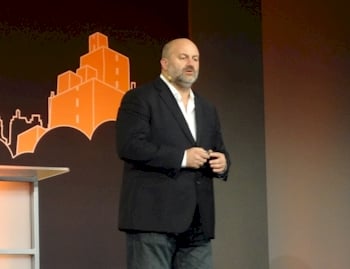 Amazon CTO Werner Vogels
To illustrate the popularity of the AWS services, Vogels showed off the object count and peak hit rate on the Simple Storage Service (S3) cloud, which El Reg already reported on. The S3 cloud is well on its way to break through 1 trillion stored objects, having exited the first quarter with 905 billion objects across the regions where AWS operates and fielding up 650,000 requests for objects during peak periods across its storage infrastructure.
"I obviously believe that we have not seen the knee of the hockey stick," Vogels said, and he is probably right.
Even with automatic expiration and deletion of objects, features that Amazon introduced late last year for the S3 service, the curve is still fairly exponential. El Reg has been hoarding data, and here's what the curve looks like so far on a quarterly basis, with the diamonds being real data points between which we fitted the best curve: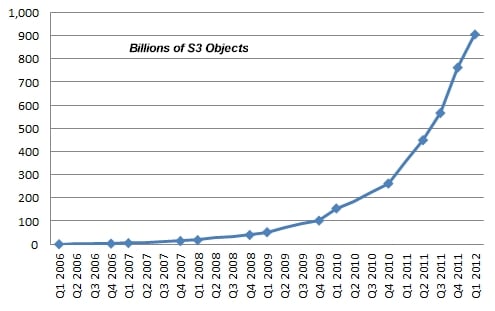 The S3 cloud: Not quite a hockey stick – yet
Amazon has not released data on the uptake of its EC2 compute cloud, nor has it released information on its Elastic Block Storage service, both of which are probably more interesting for a lot of enterprise workloads. Amazon similarly does not talk about AWS customer counts or revenues and profits from its cloud unit. But it will someday when it pulls an EMC-VMware maneuver and takes AWS public (or rather, re-takes it public, since Amazon shareholders already technically own AWS).
"We are trying to break through the traditional model of enterprise software development," Vogels said, reiterating the AWS mantra for those who have not heard it before. "Core to the old style of doing business was that enterprises were being held hostage with very long-term contracts because that was the only way that you were able to drive your costs down. What is important is that you should keep your providers on their toes every day.
"If we are not delivering the right quality of services, you should be able to walk away. You, the consumer of these services, should be in full control. That is core to our philosophy. And with that also comes the belief that if you help us gain economies of scale, and if we together operate to get increased efficiencies out of our platform, you should benefit from that."
This is why, Vogels said, AWS has cut its prices 19 times on various services – it now offers more than 30 services, ranging from compute and storage clouds to various database, load balancing, and application frame work services. The most recent price cuts, announced in early March, have resulted in some S3 customers seeing their bills drop by 40 per cent and some EC2 users seeing a 32 per cent drop.
"Why would we do this?" asked Vogels rhetorically. "Because we believe that we should help you be more successful. If you are more successful, in the long run, we will have benefit from that as well. This is a pure win-win situation for all of us."
Later in the keynote, Adam Selipsky, vice president of marketing, sales, product management, and support for the AWS unit, was a whole lot less subtle about where Amazon thinks that cloud computing is headed.
"We think that in the fullness of time – and it is not going to happen immediately – but the cloud will replace owned and operated data centers," Selipsky declared. "I don't know if it is in five years, in ten years, or in twenty years, because the sift is of sufficient magnitude that it is going to take a long time."
And part of the reason why Selipsky and his cloudy compatriots believe this is that Amazon's cloud has a faster development cycle than the traditional product cycle from IT vendors – 18, 24, or 36 month product cycles are "an anathema" to AWS, which is constantly experimenting with new services and adding new features to existing services, all driven by customer demands. ®