iOS App of the Week Propellerhead's ReBirth app brought some powerful sequencer tools to iOS last year, but made a fatal mistake by simply transplanting the complex interface of the original PC software onto the smaller screen of the iPhone and iPad.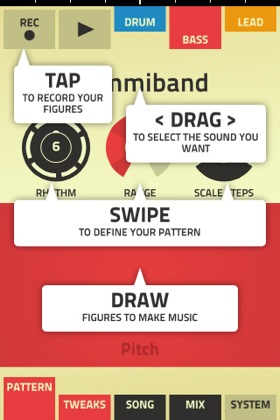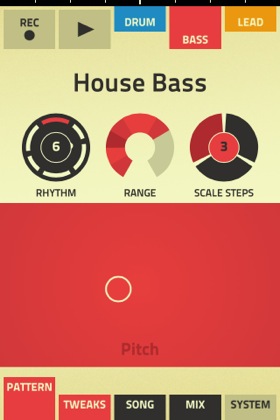 Clear hints help you get started laying down your two-bar loop
The developers obviously learned from that experience, as the new Figure is a far simpler app with an innovative interface that really makes the most of your mobile device's touchscreen.
The app provides you with three instruments – drum, bass and lead synth – that you can combine to create short two-bar loops. You can noodle around with those instruments until you hit on some sounds or rhythms that you like, and then record each instrument separately in order to create your finished loop.
The thing I really like about Figure is that the touchscreen interface is simple enough for musical know-nothings like me to muck around with, but also provides greater depth for more experienced muzos who want to experiment with a wider range of sounds.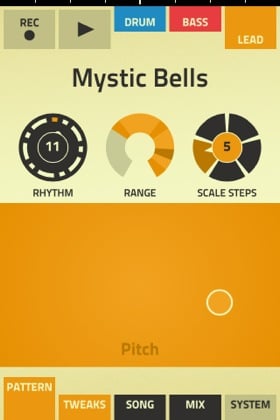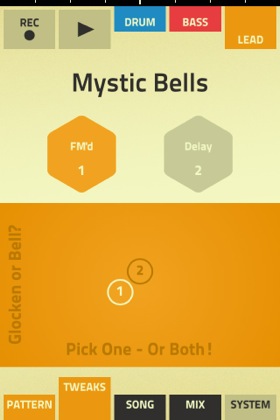 Control the lead synth instrument by moving your fingers around the virtual touchpad
Each instrument provides a number of different sounds or "patches" – so the drum kit includes patches called "urban", "old school" and the electronic "klonkotron". Once you've selected a patch, you can play that instrument simply by tapping on the touchpad that occupies most of the screen.
The clever thing here is that beginners can just press and hold on the touchpad in order to use a selection of patterns and rhythms that are built into the app. But once you've got the hang of how the app works you can then start to tap around on your own and create your own rhythms.
There are lots of additional options for more advanced users, such as the ability to adjust tempo and tonality. However, it's the clever touchpad interface that makes Figure such fun to use, as it requires no previous knowledge of music software and allows you to create music simply by tapping away on the screen.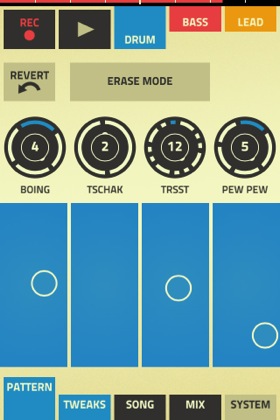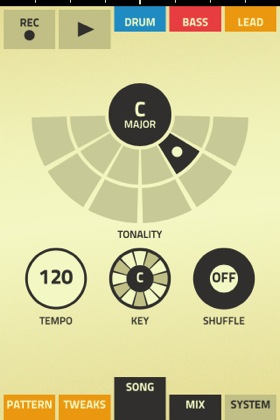 Record your drum track, then adjust the tonality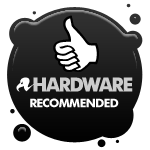 Figure does have limitations, though. The two-bar limit obviously means that your compositions are going to be fairly simple and repetitive, and the app quite conspicuously lacks any option for exporting your recordings – although you could record them through the headphone socket if you come up with something that's too good to throw away.
Maybe there will be an export option added in version 2.0, but for now Figure is simply great fun and a real bargain at just 69p. ®
We make our selection of the best iPhone, iPod and iPad downloads every Thursday. It you think there's an app we should be considering, please let us know.
More iOS App of the Week Winners

PowerCam
Taposé
TopWrite
Apple iPhoto
Photoshop Touch

Propellerhead Figure
Powerful music sequencer software wrapped up in an ingenious and easy-to use touchscreen interface.
Similar topics