Beefy Fedora could use a dash of miracle whip
Chunky between the buns, Btrfs-free
---
If you're called Beefy Miracle, you better pack a punch. And when the Fedora crew christened their next Linux desktop, that was certainly the plan.
On the menu was "over and under the bun improvements that show off the power and flexibility of the advancing state of free software."
While Fedora 17 is certainly beefy, what's been delivered with this first and only beta is not particularly miraculous.
Among the more noticeable changes is GNOME 3.4, the latest version of the GNOME 3 desktop. While the Fedora DVD still ships with a variety of desktops, the live CD defaults to GNOME and for some time now Fedora has served as a showcase for the development of GNOME 3.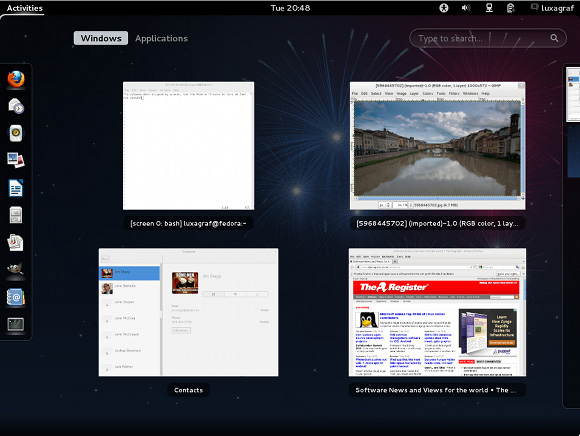 Smart GNOME: the desktop is good at guessing what you want
GNOME 3.4 continues to polish GNOME 3, particularly the shell where the search features have improved significantly. Not only do results come up much faster, the shell was much better at guessing what you want. For example, GNOME 3.4 had no trouble suggesting Gvim when typing "vim", a seemingly simple linguistic leap that Ubuntu's Unity shell fails to pull off.
Other smaller improvements in GNOME 3.4 include smooth scrolling support and some redesigned applications like the Documents and Contacts apps, both of which now have a streamlined look that's more in line with the GNOME 3 human interface guidelines.
Despite some more polish on the GNOME 3 interface, not everything in GNOME 3.4 is a step up. For example, the window scrollbars are smaller, making them harder to see, harder to grab with a mouse and harder to use.
GNOME 3.4 introduces a new application level menu that sits on the top of GNOME Shell bar and contains items that affect the whole application. It pretty much mirrors a very similar feature in Ubuntu's Unity interface. But unfortunately not all applications use the new menu yet, making GNOME 3.4 feel a bit unpredictable and more inconsistent than previous releases.
On the plus side, Fedora 17's GNOME 3.4 can now run on hardware without a native 3D driver. The gnome-session app will no longer treat llvmpipe as an unsupported driver, which means the GNOME 3 interface will work without issues in virtual machines.
One thing you won't find in the Fedora 17 beta is the newly improved Epiphany web browser, towards which GNOME developers have been devoting considerable effort. Now rebranded simply as "Web", the Epiphany browser is a bit more usable, though why exactly the GNOME team considers this a priority when far better web browsers not only exist, but ship as the default in most distros, remains a mystery. Fedora, apparently, is equally unimpressed and for now is still shipping Firefox as the default web browser.
Another far more disappointing thing missing in Fedora 17 is the Btrfs file system, which was originally slated as default with this release but which didn't make the cut. You can still opt to use Btrfs during the installation process, but it won't be the default until Fedora 18.
Under the hood Fedora 17 has started the migration to a new unified file system layout: that is, everything now lives under /usr. The plan is to get rid of the separation of /bin and /usr/bin, as well as /sbin and /usr/sbin and so on. All files from the top level directories will now be found under their /usr equivalent. Fedora is the first of the major distros to tackle a unified file system.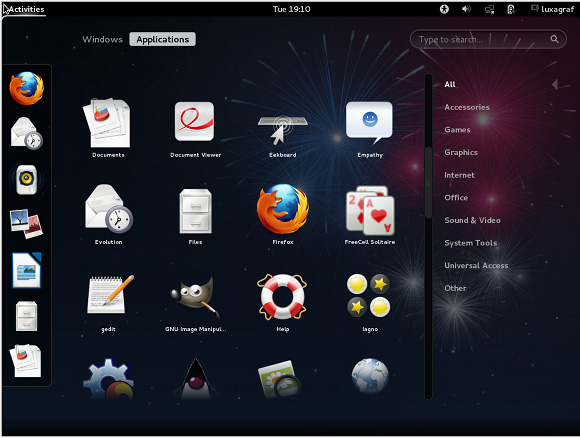 Apps on display: Fedora 17 comes fully packed
Before you panic, fear not, there are symlinks aplenty so none of your apps are going to break. Most desktop users will probably not even notice the change. But down the road the underlying Fedora file system layout will be cleaner and more predictable for developers.
The other major new backend improvement in this Fedora is the new multitouch support. At the moment that won't mean much for end users, but this release brings together a full multitouch stack that runs from the kernel to the X server to GTK+ 3.4. All that remains to be done now is for actual applications to implement multitouch. Oh and someone needs to actually build a Linux-based tablet.
When it comes to applications, Fedora 17 has the usual slew of GNOME-related updates with new versions of the Evolution email client, Firefox, Shotwell and others. The Fedora 17 DVD now includes GIMP 2.8 out of the box. GIMP 2.8 isn't a final release just yet, but it should be by the time Fedora 17 is final – no, really, after three years of development GIMP 2.8 is finally being released in May. In the meantime you can play with the new and long-awaited single-window mode, which gives the graphics editor a more Photoshop-like look feel.
Other things worth exploring in Fedora 17 include a major update for OpenStack, the open-source cloud computing platform, as well as the latest version of KDE for those who don't want the GNOME desktop.
The Fedora 17 roadmap calls for a final release on 15 May. Until then I suggest sticking with a virtual machine to test Fedora 17; it is a beta release after all. ®