Nvidia: phone GPUs to outplay current consoles by 2014
End of gaming as we know it?
---
The smartphone killed the PDA, the MP3 player and the PMP - will it kill the games console next?
Ask graphics chip maker Nvidia and it will undoubtedly say 'no', not least because it would rather like to sell lots of high-power GPUs to Microsoft and Sony.
But it certainly reckons that, come 2014, smartphone graphics cores will be able to pump out more pixels than today's consoles, specifically the Xbox, can, as this slide, snapped by Anandtech, shows: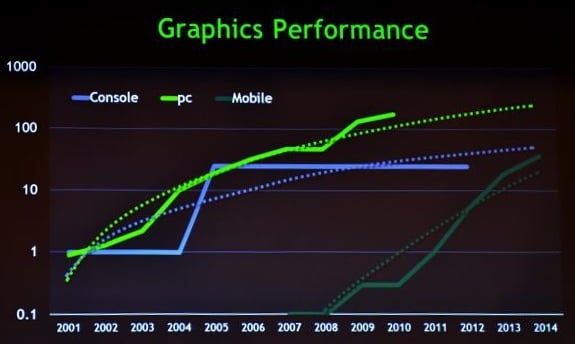 Source: Anandtech
By then, we'll be on to next-gen machines (hopefully), but Nvidia's claim raises the interesting possibility that handsets may soon eclipse consoles.
Now, hold on, I'm not talking about World+Dog gaming on a 4in screen - even a 'retina' one - rather than playing on a big, HD-or-better monitor.
Consider this though: using the phone - or tablet - as a console, wireless connected to a big screen for presentation and the handset's own touchscreen as the controller. Or perhaps Bluetooth'd up to a standard games controller.
CPU and GPU performance, all this is possible with today's tech.
And, of course, you can take the 'console' away with you for a spot of Angry Birds on Jupiter or Shadowrun VI action when you're on the move.
Agree? Disagree? Love the notion? Hate it? Go and thrash it out in the new El Reg forums. ®