This article is more than 1 year old
Dell fuels up Precision workstations with Xeon E5s
Ivy Bridge rocketsled to launch next month
Intel has got its Xeon E5 processors out the door for boxes with one or two sockets and is getting ready to start the "Ivy Bridge" generation of desktop processors, and so it's no surprise Dell is revamping its Precision workstation lineup.
The direct vendor is keeping momentum going in this fast-growing segment of the desktop PC business, where is has about a third of the market, about 8 clicks behind market leader Hewlett-Packard according to estimates by Jon Peddie Research.
Dell is launching four new workstations today, three of which are based on the Xeon E5 processors and one on a forthcoming "Ivy Bridge," or Third Generation Core processor as Intel calls them, in the i5 and i7 series, as well as their Xeon E3 variants, which are also sold in entry servers as well as workstations. None of these machines are available today, but will start shipping in May. That means configuration information is a bit thin.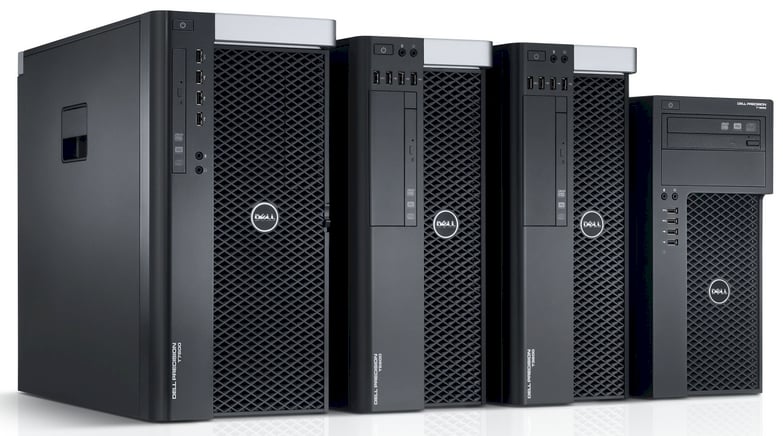 Dell's new Precision workstation lineup: From left to right, the T7600, T5600, T3600, and T1650 (click to enlarge)
Let's start at the bottom and work our way up to the rocketsled you wish your company would pay for but probably won't.
Dell is not saying much about the entry Precision T1650 workstation, except that it will use future Ivy Bridge processors. But if you poke around on the Intertubes, you can see that the machine will offer up to 32GB of DDR3 memory running at 1.6GHz for its single socket, have room for four disk drives, and offer graphics cards ranging from the Nvidia Quadro NVS 300 to the Quadro 2000. You'll be able to put a 265 watt or 320 watt power supply in the T1650's tower chassis, with room for a spare if you want one. The T1650 will ship in May, and Dell will announce full configuration and pricing details for it at that time.
The Precision T3600 is based on two different Intel processors. The first is the Xeon E5-1600, a high-watt, high-clock version of the "Sandy Bridge" chip that comes with four or six cores and that is only certified to run in single-socket workstations, which do not have the same thermal constraints as servers do.
The T3600 can also use the Xeon E5-2600, which is designed for two-socket boxes (either servers or workstations) but which can obviously also be used in single-socket machines. You would go with a Xeon E5 in a T3500 if you wanted more L3 cache memory, more cores, or more threads. The Xeon E5-2687W, which is also only available for workstations, has eight cores running at 3.1GHz and burns at 150 watts, compared to 130 watts for the three E5-1600s, which spin at between 3.2GHz and 3.6GHz.