This article is more than 1 year old
HP, Microsoft hop into bed for VS3 private cloud kit romp
For the sysadmin who needs 6,000 VMs, stat
System integrators had better polish up their resumes, because every IT vendor wants to sell preconfigured systems with servers, storage, networking, and management software – all pre-integrated and ready to have software poured onto their virtual machines to start doing real work in hours.
Hewlett-Packard and Microsoft have teamed up to flesh out the high end of the VirtualSystem private cloud lineup, with shiny new servers, storage, and software.
Here's a primer, just in case you have trouble keeping up with the HP naming conventions. HP originally had the BladeSystem blade server chassis and server nodes, with integrated VirtualConnect virtualized networking for the blade nodes. Then it added a bunch of management software, and this became the BladeSystem Matrix, which was unfortunately announced on the same day that Oracle bought Sun Microsystems in April 2009.
Not everyone wants blade servers, and the storage was effectively left wanting with this Matrix setup, so HP went back to the drawing board and took elements of the BladeSystem Matrix, rolled in storage, and gave customers rack server options to create the VirtualSystem private clouds.
The VirtualSystems come in VMware ESXi and Microsoft Hyper-V flavors, and if you want to take control freakery up another notch, as the Matrix machines did, then you buy a CloudSystem.
The CloudSystem has HP's Cloud Service Automation Suite software, which includes cluster control software licensed from Adaptive Computing as well as some of the management and self-service portal tools that HP originally created for the BladeSystem Matrix. The CloudSystems all use high-end 3PAR disk arrays, while some of the entry VirtualSystems make use of HP's cheaper and less sophisticated Lefthand Networks arrays.
The idea behind VirtualSystems is to gin up private clouds that come in three sizes – VS1, VS2, and VS3 – and to sell them like T-shirts to data centers needing to support a maximum of 750, 2,500, or 6,000 virtual machines in a private cloud rather than with progressively fatter chums.
This concept applies whether you are talking about ones running VMware's ESXi and related hypervisor management tools (which El Reg covered here when they came out in August last year) or the initial Microsoft machines (which we talked about when they came out last October).
HP and Microsoft had already launched the VS1 and VS2 VirtualSystem setups last fall, and at the Microsoft Management Summit last week, where Microsoft started peddling its System Center 2012 management tools, HP rolled out new VS3-sized VirtualSystem stacks sporting the new HP ProLiant Gen8 servers plus 3PAR storage and integration with Systems Center 2012.
HP didn't make a big deal about its VirtualSystem for Microsoft VS3 announcement. Like many IT vendors these days, the company used a blog to tell people about the new extra large virty boxes for running the Microsoft stack as well as updating the existing VS1 and VS2 stacks to make use of the new Systems Center control freak from Microsoft.
Oddly enough, the VS1 and VS2 stacks were not updated with the latest HP ProLiant server iron, but if you think about it, the idea behind the VirtualSystem and CloudSystem setups is that they have a single SKU and have a shelf-life that is not precisely tied to a new server or storage or networking product launch.
These stacks will always be somewhat behind the piece parts, and you can bet that if a customer wants to replace one type of server for another on a customised basis, HP will work with them to get it all done.
The VS1 setup is based on HP's ProLiant DL380 G7 rack servers (which use the older Xeon 5600 processors from Intel), with between two and eight servers (maxxing out at 96 cores and 1.5TB of main memory), with four HP A-Series switches (two Gigabit Ethernet and two 10 Gigabit Ethernet top-of-rackers).
The VS1 setup has a Lefthand Networks P450 SAN with 14.4TB of capacity that scales up to 57.6TB to reach that 750 VM level. The server nodes are configured with Microsoft's Hyper-V R2 hypervisor and System Center.
The VS2 setup switches to HP's BladeSystem BL460 blade servers, with six or 12 blades in the initial configuration (scaling up to 28 blades), the same A-Series switches (not a VirtualConnect switch in the chassis, notice), and a Lefthand Networks P4800 array with a base of 42TB of capacity (scaling up to 84TB). Fully loaded, the VirtualSystem for Microsoft VS2 setup has 336 cores and 10.5TB of main memory to support those 2,500 users. (That's 12 cores and 384GB per blade.)
With the VirtualSystem for Microsoft VS3 setup, HP is going with its latest ProLiant Gen8 machines; it comes with BladeSystem blades as default, but ProLiant rackers are also an option. This VS3 setup actually comes in two racks, and when fully loaded is designed to support 2,500 virtual machines running atop Hyper-V.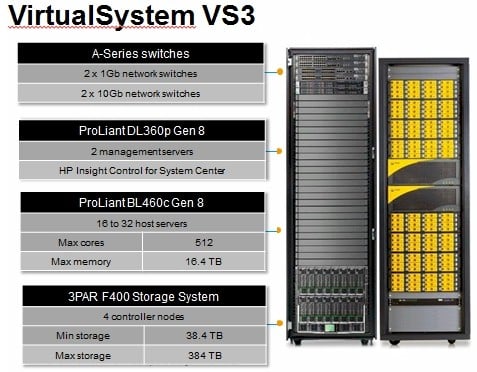 HP's VirtualSystem for Microsoft VS3 cloudy stack
The first rack, on the left above, includes the networking and compute and the second rack is for storage. The base configuration comes with a BladeSystem c7000 chassis with 16 ProLiant BL460c G8 blade servers, which are based on the new Xeon E5 processors.
The Xeon E5s pack up to eight cores in a socket and the BL460c blade has up to two processors and up to 16 memory slots, for a maximum of 512GB of main memory. The setup comes with the c7000 chassis loaded up with its full complement of half-height blades, which are configured with their fattest memories using 16GB memory sticks.
Fully scaled up, the VS3 setup has two c7000 enclosures with a total of 512 cores and 16TB of main memory across those 32 nodes. Customers can substitute DL360 G8 1U rack servers for the blade setup if they want and can add the 32 machines to the rack. (not shown in the image above). The rack has the same four A-Series switches as the VS1 and VS2 setups, and is designed to scale to 6,000 virtual machines when loaded up.
The storage rack in the VirtualSystem for Microsoft VS3 setup is configured with 3PAR F400 SAN arrays, which are configured with four controller nodes with a base 38.4TB of capacity, expandable to 384TB. Customers Fibre Channel disks are used in the 3PAR arrays for storage, but if you want to goose I/O performance with solid state drives or do nearline archiving on fat SATA drives, these are options.
The 3PAR SAN arrays have thin provisioning software, which means you don't over-provision storage on VMs, and the 3PAR software stack has automatic tiering between the Fibre Channel disks (tier 1), SSDs (tier 0), and nearline SATA (tier 2) drives. This is stuff that companies deploying clouds do not want to – and cannot really – do manually. And for those who want to set up multi-tenant private clouds, the 3PAR arrays support virtual domains, host groups, and data and control separation.
The Gen8 servers are similarly loaded with a bunch of autonomics, which El Reg discussed in detail back in February ahead of the Gen8 server launch.
These new features include agentless management and Smart Update firmware and software maintenance. And, of course, with the VS3 setup, HP's Insight Control is integrated with Microsoft's Systems Center Operations Manager 2012 and Systems Center Virtual Machine Manager.
The VirtualSystem for Microsoft VS3 configuration will be available "next quarter", by which HP presumably means in the next calendar quarter – and that means sometime between July 1 and September 30. Pricing for the cloudy Hyper-V stacks was not announced.
El Reg is working on a comparison of various cloudy stacks from HP, Cisco Systems, Dell, IBM, and others. Stay tuned. ®