Letters will be sent to suspected copyright infringers under the Digital Economy Act in 2014, a ministry of fun top wonk outlined yesterday.
The Act was passed in 2010 after voluntary agreements with ISPs failed, and set out procedures to tackle unlicensed downloads. The legislation outlined a 12-month monitoring period in which infringers would receive warning letters, and gave the Secretary of State for Culture, Media and Sport the ability to order Ofcom to do something about it.
Initially it was expected that the first letters would be sent in early 2011. The latest timetable puts it three years behind schedule.
An unsuccessful legal review – requested by BT and TalkTalk – put the Digital Economy Act on ice for two years, and squabbles over costs added further delays. Ultimately, however, ministers just don't want to implement the law. And it may never be implemented at all – the forthcoming revision to the Communications Act of 2003 may render it all moot.
The new date was revealed at the Creative Coalition conference in London yesterday, where online copyright infringement policies from Spain, France and the USA were discussed – more of which will be covered later today. Culture Minister Ed Vaizey was unable to give his speech personally, due to a traffic accident, and civil servant Paul Kirkman stepped in.
The department's own infographic lists Kirkman as "Head of Arts" – and we're not going to argue. You'll note that there isn't a line in sight: civil servants are free-floating, self-organising blobs: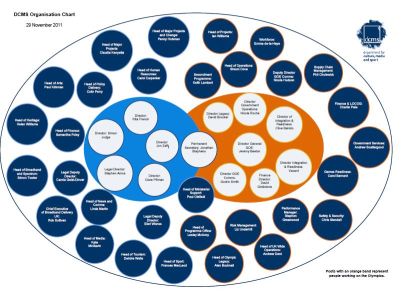 Click to enlarge (warning:PDF).
Clearly, somebody must be a fan of World of Goo. ®