Rome wasn't built in a day, Hadopi won't be built in two years: those were the exact words of Marie-Francois Marais, the head of the French anti-piracy programme, speaking in London yesterday.
At the Creative Coalition's conference on growth, the audience were able to compare the approaches taken by four nations to tackle online copyright infringement.
In addition to a rare visit by Marais, Spain's culture minister outlined new legislation passed last year, and a Comcast executive gave an overview of the voluntary code being introduced in the US later this year. And from the UK? Well, not so much.
All are graduated response schemes of one sort or another – which made for an interesting study in contrasts.
France's Haute Autorité pour la diffusion des œuvres et la protection des droits sur internet (Hadopi) is the most ambitious copyright infringement programme in Europe. It allows a judge to impose a month's internet suspension and a €1,500 fine on persistent infringers. Hadopi published some figures recently – so we won't repeat them here. But other insights may be new.
Marais said the three-strikes scheme had been designed around personal responsibility and was largely educational. Many recipients of a warning letter "didn't protect their Wi-Fi and didn't know how to". Even by the third letter many "didn't understand what was going on". She said it was largely about persuading people to use legal services – not the dedicated hardcore. "Our targets are not the obsessive pirates who want at all costs to succeed," she said.
Marais admitted that Hadopi only dealt with peer-to-peer file sharing, rather than cyberlockers such as Megaupload and Rapidshare – but a proposal would be forthcoming soon.
France's socialist party pledged to repeal Hadopi in 2010, while the socialist presidential candidate François Hollande hasn't pledged to retain it – Hollande wants new taxes on ISPs and service providers. Marais sounded confident it would remain "perhaps in another form or name".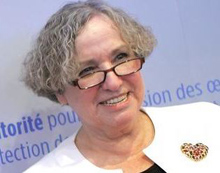 Marie-Francois Marais
Spain passed graduated response legislation in March 2011, and Fernando Benzo Sáinz, under-secretary at the Ministry of Education, Culture and Sport in Spain, gave an overview.
By contrast, new Spanish law targets the ISPs and middlemen. "There are no penalties for users or civil consequences for infringers," said the minister. Opinion-based material was exempt from prosecution, preserving freedom of expression. Of 200 sites identified as infringing, 81 stopped serving unlicensed material. The minister admitted that global policy was needed, since his law can't do much about sites outside Spain.
The minister said penalties for "false denouncements" – bogus accusations of infringement – had been introduced. These make the accuser pay for some of the costs of a false claim.
Much of the work, he said, was on campaigns and education. Spain was late developing digital markets.
Gerard Lewis, VP at Comcast, explained the voluntary code being introduced by the five largest ISPs in the US. Internet providers hope this voluntary approach will head off legislation by Congress that increases ISP liabilities.
Like Spain, this was educational. "It's not punitive," explained Lewis. "It does not cut their internet off, or slow their connection." Instead subscribers get email alerts.
It remains to be seen how well this works in practice. Wouldn't legislation be more effective, Lewis was asked. "Unless you monitor all traffic, you're never going to know," he said – and was strongly against monitoring every network packet.
With Facebook's Simon Milner, and TalkTalk's Andrew Heaney, the UK session was always going to be lively. Milner was BT's policy guy until November and during its legal war of attrition against the Digital Economy Act.
"We can't expect ISPs to block bad behaviour," Heaney told the room. "You've got private enforcement and private action." He still disapproved of the DEA's "threats and warnings", adding "we say an account holder has broken no law, so it's inappropriate to make threats".
BSkyB's David Wheeldon sounded much more co-operative.
"If you know it's happening, you should take steps," he said. "There's probably a role for the judicial route too – ISPs helping copyright holders who to target. It's about how can we do it in a way that maintains the confidence of the public."
And what about our own graduated response framework? We now hear it will be 2014 before the first letters are sent out.
John Whittingdale, the influential chair of the Culture Select committee, explained that he hadn't been a fan of the legislation. "The Digital Economy Act got it wrong," he said. But he was a strong defender of copyright. He's chairing an enquiry prompted by the antics of our Intellectual Property Office – supposedly a promoter and defender of IP.
"The idea we should dilute intellectual property is utterly barmy," Whittingdale said. Lib Dem culture spokesman Don Foster agreed: "The government has said that creative industries are critical to the UK economy – but there are parts of government who hear a different message."
Ed Vaizey is said to be unimpressed by the anti-enforcement, digital rights activists he's obliged to meet. But his speech (given by a civil servant in his absence due to a traffic accident) didn't offer the representatives of creative industries who were present much to chew on: "We have to ensure the framework supports growth... especially in technology startups. The more material that is legitimately repurposed and reused, the bigger the market is."
Music to Bong's ears. ®