This article is more than 1 year old
Fifa fans kick up fuss over Euro 2012 team substitutions
EA accused of red carding complaints
Fans of EA's Fifa football franchise have seen red after 24 teams were left out of its Euro 2012 DLC release, which has also been dogged by bugs, according to disgruntled gamers.
Teams that appear not as themselves but as similarly-styled groups of players include tournament host Ukraine, and Slovakia and Wales, with players such as Gareth Bale and Craig Bellamy hitting the pitch as Gareth Belth and Craig Belmont.
The reason? EA didn't license the teams' kit and player details.
"If I wanted to play as cheap rip-offs of players I would of bought PES," grumbled one unhappy customer on the EA forums.
Unlike its rival, though, the Euro 2012 release doesn't allow gamers to edit names of the made-up squad members.
"[And there's] not even an option to play a friend online," complained another buyer.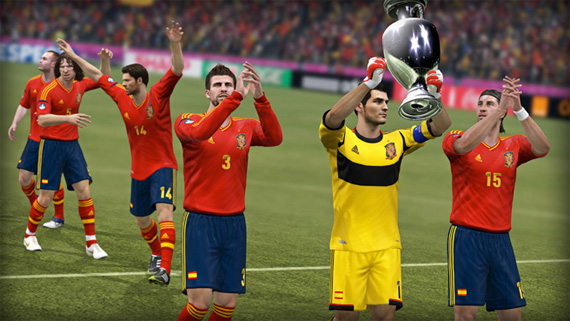 Cupped balls
The general consensus is that, even though EA has released this as a download update for Fifa 12 rather than a full game as it has in the past with World Cup versions of the game, customers are demanding more for their 16 quid.
EA has generally fully licensed the line-ups of its previous outings.
The games giant is also alleged to be locking threads in the EA forums, trying to keep the barrage of complaints down to a minimum.
"Licensing teams and leagues is a business decision based on market size and limited resources, and within these parameters, we were not able to negotiate an agreement with every football association to have their national team included within the game," said EA in a statement. ®