This article is more than 1 year old
Ten... eight-bit classic games
An Antique Code Show Special
Retro Week

I live with geeks, and when they aren't at hackfest they are in the front room playing Vindicators and Spyhunter on a Friday night. I think they only tolerate my presence because my dad works at CERN and I used to be able to program Turbo Pascal before all that PCP melted my frontal lobe.
One topic of conversation I use to ingratiate myself in their sausagefest inner circle is 8-bit gaming. The Commodores and Spectrums of the 1980s had to rely on simplicity and engaging gameplay rather than processing power to keep me hooked, and reminiscing about when games used to be original is always amusing.
And 8-bit gaming defined my childhood and was ultimately responsible for my father's unfulfilled dream that I might be a microserf rather than a hipster deadbeat. As modern entertainment systems grow more elaborate it is left to the geeks in my living room to ensure 8-bit gaming never dies!
Ant Attack

The first true isometric 3D game, Ant Attack was created by Scot sculpture student Sandy White who was obviously partial to a bit of MC Escher. Being able to play a heroine was memorable, as was the thought of setting out to rescue my poor unfortunate hostage boyfriend. The 3D graphics are really impressive, especially when I am surrounded by the giant ants that patrol the Walled City of Antescher. Climbing or jumping stairs and walls to investigate the city while avoiding the deadly attention of ants was exhilarating. Frantic key bashing due to overly complex controls meant it was usually luck rather than skills that saw me avoid snapping mandibles.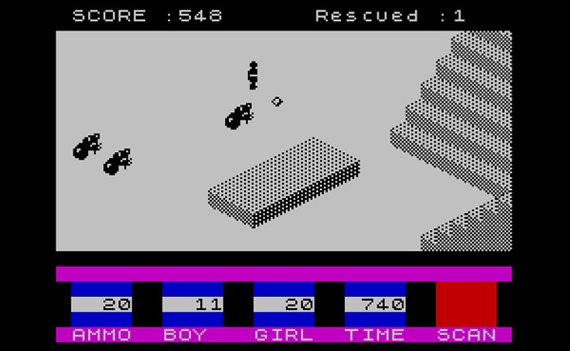 Chuckie Egg

Unlike Adrian Mole, Nigel Alderton's teenage dream involved chicks of a different kind. Somewhat of a hero to my housemates, Nigel took his Spectrum code to A&F and in the process created a nice little earner. I play Hen-House Harry, a pocket-sized hero and my task is to frantically run through eight barns collecting a dozen eggs from each within a time limit. Along the way I must avoid deadly chickens that would be only too happy to hen-peck me to death. I'm always sure to steal their seeds to collect more points and pause the timer. Rushing at a super fast pace between ladders and platforms Chuckie Egg's sheer kinetic pace and energy makes it an 8-bit classic. Beware the duck!