Elite

I am Commander Jameson - no, not Jenna Jameson - and I am flying a wireframe 3D spaceship through a vast galaxy trying to make a buck while avoiding the Thargoids. Elite is a space trading or rather exploration video game, originally published by Acornsoft in 1984 for the BBC Micro. My starting point is the Lave space station where I invest in different types of cargo to fill the hold of my Cobra Mk III and the figure out where to voyage in space to make my fortune. Elite's wireframe 3D was revolutionary at the time, and using my keyboard bashing skills I accelerate, decelerate, rotate, dive and shoot just fast enough to outwit space pirates and not come a cropper in too many intergalactic dog fights!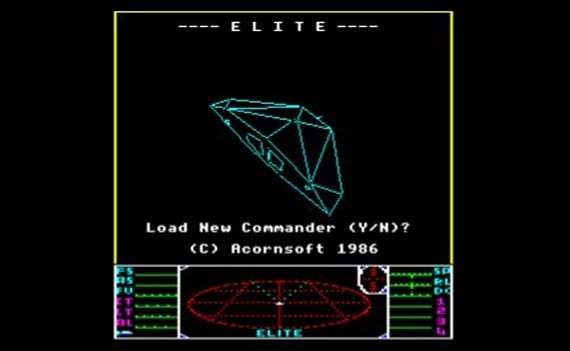 Released
1984
Developers
Ian Bell, David Braben
Publisher
Acornsoft
Platforms
BBC Micro
More Info
Ian Bell's Elite page
The Hitch-hikers' Guide to the Galaxy

Don't panic, it's not on the Spectrum like almost every other game in this list! I'm old enough to remember Ascii dungeons, so this text-based adventure game based on the famous radio series - and you though it started out as a book... - and helped along by the author may sound like hard work to younger folk but goes surprising well with a cup of tea and a towel. The object of the game is to find the legendary lost planet of Magrathea but I'm going to have to collect and sort through a vast amount of tat to find it. I am still amused and intrigued by Hitchhiker's logic puzzles - just don't mention the babel fish. It's the source material that makes this game fun. Text prompt, type answer and just don't act too clever.