This article is more than 1 year old
Panasonic DMP-BDT320 3D Blu-ray player
Disc spinner with a new twist
Review Panasonic's DMP-BDT320 is both fabulous and frustrating. Leading the brand's mainstream Blu-ray brigade, and positioned as an understudy to the audiophile grade DMP-BDT500, it packs a towering performance into a chassis barely 27mm tall. It also comes with a new-style remote control that tries far too hard to be clever.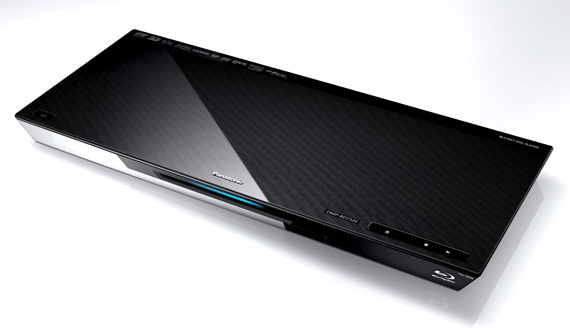 Box clever: Panasonic's DMP-BDT320
Distinguishing the deck from the lower ranks are jauntily angled side panels and a slot loading disc mechanism. Both seem built for speed. The player sucked in a Java heavy copy of Goldfinger and had the 007 menu onscreen in a respectable 52 seconds. A less complicated platter reached its menu in just 31s.
Connectivity comprises a single HDMI out, with legacy phonos and optical digital audio, plus a USB for the brand's optional Skype camera. A second USB is positioned beneath a fascia flap for media playback, alongside an SD card reader. Wi-Fi is built-in.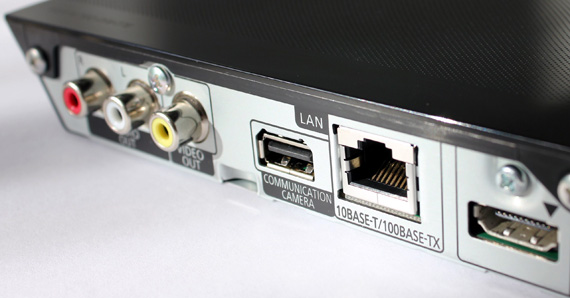 Network savvy but format fussy
USB file support is wide. This year FLAC and WAV join MP3, while video covers MKV, AVI, MOV and MP4. Unfortunately, this compliancy doesn't extend to streaming the same content from a Nas across a LAN.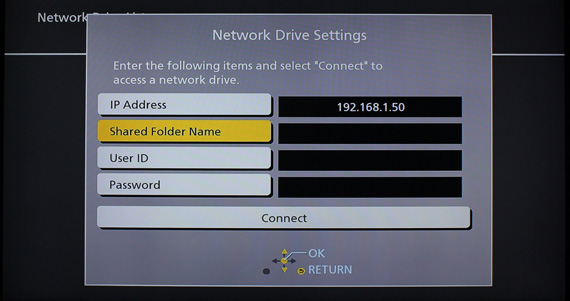 Network Nas mapping: Panasonic's way of doing things
Panasonic's approach is to manually map the Nas (by inputting IP address, shared folder name and login details) to the deck itself, which then allows the player to render your files. I can't imagine general users feeling comfortable doing this, but it works well enough.
The Viera Connect web portal is rather more straightforward to use. BBC iPlayer is the headline attraction, but there's supporting action from Netflix, YouTube, Dailymotion, Acetrax, Aupeo!, Shoutcast and others. You'll also find Facebook, Twitter and Picasa amongst others in the Viera Market apps store.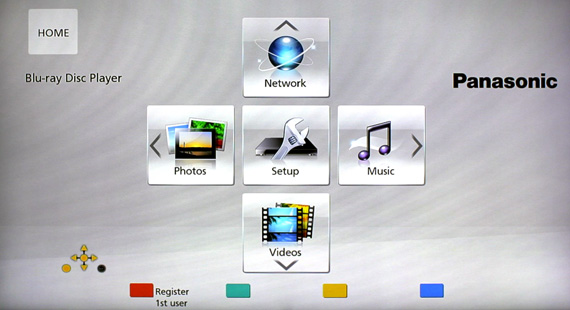 Main navigation interface
The most contentious aspect of the DMP-BDT320 is that remote. For its top tier kit, Panasonic has jettisoned the standard zapper and draughted in a radical new touchpad. With only four buttons, the bulk of your interaction with the player is via directional strokes.