Symantec trims targets as subscriptions put off payday
Salem's lot not quite so big
Symantec's customers are cutting back on purchases and the company's revenues are going to be lower this quarter. Why is demand for its products lower?
The company announced preliminary results for its fourth fiscal 2011 quarter as there is an unexpected shortfall. It announced expected revenues of $1.68bn – below the issued guidance of $1.72bn to 1.73bn – which is a $40m shortfall at worst. However, the figure from its year-ago quarter – $1.67bn in revenue – will still be exceeded.
President and CEO Enrique Salem explained the shortfall: "A greater percentage of enterprise subscription contracts resulted in higher deferred revenue than expected. We experienced weaker than expected licence performance due to fewer licence-rich storage and server management deals in the quarter compared to the year ago period."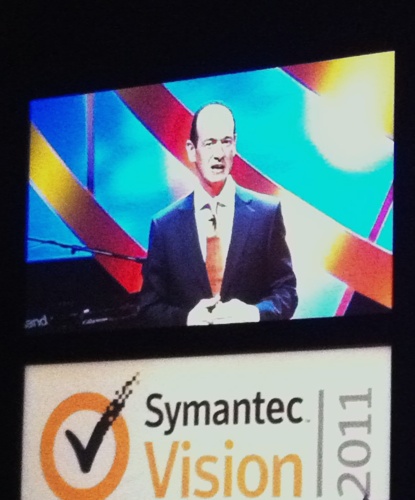 Symantec president and CEO Enrique Salem
Oddly, Symantec's net income, as implied by its earnings-per-share (EPS), is going up markedly. Its EPS in the quarter will be $0.78, contrasting to guidance of $0.23 to $0.24. The $0.78 number includes a one-time boost from Symantec's sale of its interest in the Huawei-Symantec joint venture to Huawei.
Symantec's deferred revenue is expected to be around $3.97bn – the prior guidance was $3.915bn to $3.935bn – and this compares to $3.82bn in the year-ago period, up 4 per cent year-over-year.
Stifel Nicolaus analyst Aaron Rakers said Symantec's reported total storage and server management revenue declined 5 per cent year-on-year: storage management solutions declined 8 per cent, and backup/archiving revenue declined 3 per cent. "The company noted there was less new licence business seen during the March quarter and stated it closed the number of deals it had anticipated in Financial Services, although deal sizes were not necessarily as large. Europe was noted as generally in line with expectations during the quarter."
Symantec had seen "some pause in front of its new Backup Exec solutions ... while seeing strength in its backup appliance solutions ... [It] believes the full release of its new NetBackup and Backup Exec solutions should result in a good uptake and improved demand going forward," said Rakers.
In related news, Symantec said Andrew Del Matto has become an SVP and its chief accounting officer. This is an internal promotion and is necessary because the previous chief accounting officer, Phil Bullock, is leaving to head Apple's tax department. This is "not due to any disagreement with the Company on any matters relating to the Company's operations, policies or practices," Symantec emphasised.
Returning to the revenue shortfall, are other data protection and management software companies similarly affected? Are enterprise and public sector storage-related budgets under-shooting storage capacity growth more than anticipated?
In other words is this an industry problem, a data management software sector problem, or a Symantec problem? EMC's most recent results indicated no industry-wide or data management sector problems, so Salem may have to look closer to home for the source of the shortfall. ®