This article is more than 1 year old
Networking giant Emulex stumbles at third quarter hurdle
Oops: Did we say FCoE was going to be the next big thing?
Emulex's latest earnings show a fall compared to the previous quarter: which was the first profitable quarter after six loss-making ones. This means execs at the networking giant are probably on high alert for any further signs of a return to that slough of despond.
Revenues for its third fiscal 2012 quarter totalled $125.7m, down from the second quarter's $128.7m, but still up 12 per cent from the previous year's Q3 total of $122.1m.
Profit (net income) was $8.7m, just under 7 per cent of revenues, and down from the prior quarter's $15m, which was 11.7 per cent of revenues. A chart shows Emulex's quarterly revenue and profit/loss numbers over the past few quarters, with a pronounced dip into six quarters of losses in the fy2011 period.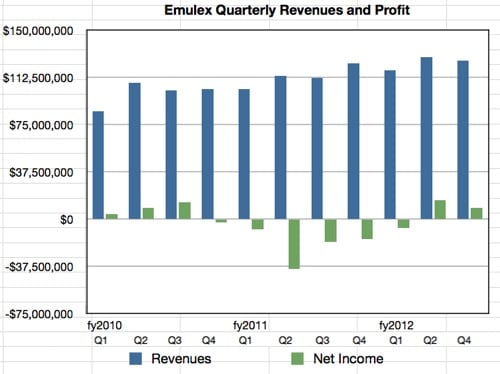 Emulex revenues and profit/loss to Q3 fy2012
Thankfully that period is over; the second fiscal 2012 quarter showed a return to profit and impressive revenues, but the momentum of that has not been sustained. Why not?
Basically it seems that traditional third quarter seasonal weakness and Intel are to blame. A delayed server chip refresh meant Emulex's server-shipping OEMs didn't need so many fast 16Gbit/s Fibre Channel host bus adapters. FCoE – the emulated version of Fibre Channel running over Ethernet – is not exactly selling like hot cakes and is not likely to do so anytime soon, so all that FCoE-flavoured Ethernet development is not paying off yet.
Ethernet products are doing well though, with Emulex's release stating: "Net revenues for our 10Gbit/s Ethernet products more than doubled year-over-year, exceeding 2 per cent of net revenues, compared to 15 per cent in the prior quarter and 12 per cent in Q3 of fiscal 2011." That's a clear enough trend.
CEO Jim McCluney said: "I'm particularly pleased with the strength of our results in light of the seasonal weakness that is typically associated with our third fiscal quarter. The continuing expansion of our core markets drove year-over-year revenue growth in excess of 10 per cent for the fifth consecutive quarter."
What does the outlook like? McCluney added: "We look forward to a strong finish to the fiscal year and are optimistic that we will be able to show double digit year-over-year revenue growth for the second consecutive year, and have the opportunity to surpass the half billion dollar annual revenue mark for the first time."
The final fy2012 quarter should see revenues of between $126m and $130m, meaning full year 2012 revenues of between $498.8m to $502.8m. We bet the sales force will be pushed like hell to get revenues up past half a billion. Net income may well be affected by legal disputes over patents with Broadcom, which tried to take Emulex over back in 2009.
The sever refresh delay means competitor QLogic can catch up with its 16Gbit/s Fibre Channel products, which is a nuisance. That's the way the cards fall in the connectivity game when you're selling a lot through OEMs dependent on Intel's server chip delivery schedule.
Back in May 2009, when Emulex was desperately fighting off the Broadcom takeover bid, it talked of reaching $600m revenues in its fiscal 2012. But that was then: when FCoE looked exciting rather than dull. Nobody thought FCoE would turn out to be a damp squib, so we can't look at that $600m idea as fantasy.
Bearing that in mind, we can say that the Emulex people have done a dogged job since then, and clicking the half billion dollar annual revenue button would be a sweet, sweet reward for all that sweat. Those sales people are going to get whipped on to do it. ®