Show diary Infosec and B-Sides both came to London this week to display the contrasting faces of the information security industry.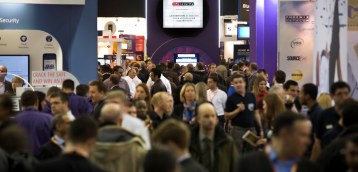 Crowds at Infosec proceed in an orderly manner through the various exhibits
(before the cry of "Open bar!" was heard, natch)...
InfoSec Europe, in London's Earls Court, played host to government bigwigs including Universities and Science Minister David Willetts and Information Commissioner Christopher Graham, as well as hordes of marketing suits.
B-Sides UK, by contrast, featured the elite from the UK and Ireland's whitehat security research scene; there were no suits or ties at the Barbican, the venue of the second annual B-Sides gathering.
The absence of an upcoming general election, Icelandic volcanic ash or other travel disruption meant that there were plenty of US marketing execs and other high-profile speakers at Infosec. More than 350 firms competed for attention at Earls Court this week during the 17th edition of "Europe's number one information security event". The show was packed with attendees, as per every year, who take advantage of free entrance to canvass vendors on security strategy. In truth there was little or no breaking news, but Infosec remains a good place to get vendor roadmaps or see security technology in action.
Infosec show numbers seem to be holding up. Last year around 12,000 people visited the show.
The mugs, biros, T-shirts and assorted giveaways were less in evidence at InfoSec this year. However, several vendors offered open bars at the end of the first day (Tuesday) of the show, with a couple cracking open the cask as early at 3.30pm, two hours before the show floor closed. Plenty of attractive female models found work as booth babes at the show, another draw.
Bring Your Own Device was a key issue for many of the security pros attending the vent. Imation used the show to launch its StealthZONE PC-on-a-stick desktop environment to enterprise customers. The technology offers a secure, consistent work environment on any USB-capable end point, offering relief from BYOD headaches. Becrypt's Trusted Client tackles much the same problem but unlike Imation's technology it can also boot off a Mac.
Those looking for the latest security research at InfoSec would have been disappointed. A sizeable number of security researchers attended but they were there to catch up with contacts rather than to make presentations or outline new research.
InfoSec is primarily about technology marketing. It's more about generating leads, or setting up channel partners, than clinching sales, which tends to happen for visiting vendors at either side of the show. The interactive workshops that used to be one of the main features of InfoSec were thin on the ground this year, from what we could see at least.
The biggest stands at the show continue to be dominated by by anti-virus vendors. Former show stalwart Microsoft hasn't appeared for two or three years, but other IT players such as BT and Cisco were back.
BlackHat, RSA and their ilk are far better places to hear about the latest breaking research about information security. InfoSec's education problems used to be a draw but this function has receded over recent years. Thankfully B-Sides has come along to pick up the slack on the educational front, as well as outlining new security research in areas such as Windows Mobile 7 and HTML 5.
B-Sides – featuring speakers such as @securityninja and @f1nux – offered a counter-program to that of InfoSec, akin to putting a screening of Withnail and I across the road from that of the latest Hollywood blockbuster. ®
Similar topics
Broader topics