This article is more than 1 year old
Twelve... classic 1980s 8-bit micros
6502 and all that
Dragon 32

Thanks to its use of Microsoft Color Basic, the Welsh-made Dragon was a near duplicate of Tandy's TRS-80 Color Computer but with a non-calculator keyboard and better ports. It had 32KB of Ram and Motorola's 0.9MHz 6809E CPU, more sophisticated than the popular Z80A and 6502 chips, but much less well known by UK programmers.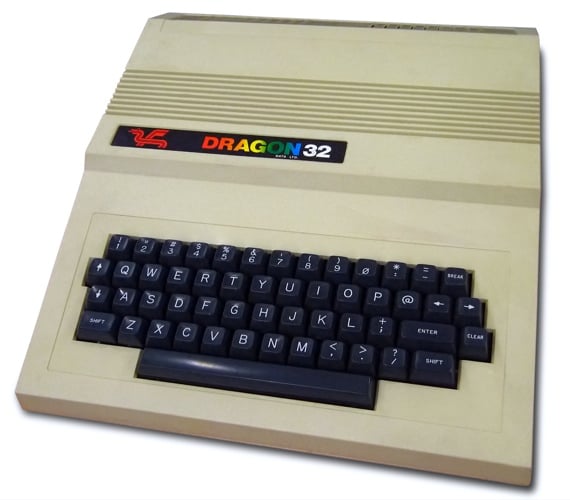 Source: Wikimedia
The upshot: a paucity of home-grown games. Though one firm, Microdeal, imported a stack of US titles, there was a real sense among buyers that the Dragon was a machine with little software.
Even so, Dragon Data, went on to sell a fair few of its machines - 40,000 by 1983 - and launched a follow-up 64KB version in September 1983. But Dragon Data's owner, toy maker Mettoy, had money troubles. Despite a government cash injection, DD was eventually acquired by GEC at the end of '83. GEC pulled the plug in May 1984, right after announcing a portable version of the 64 and a Dragon with two CPUs.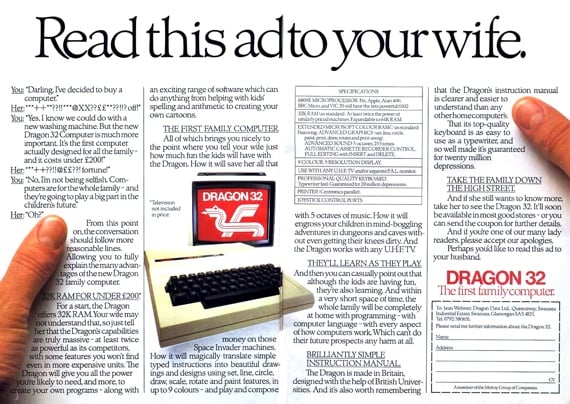 Release Date August 1982
Price £199
CPU 6809E @ 1MHz
Memory 32KB
Developers Hardware: Lyndon Davies. Software: Microsoft, Duncan Smeed
Grundy New Brain

The ill-fated NewBrain first appeared in prototype form in 1980, though its story goes back to 1978. It wouldn't be released until 1982.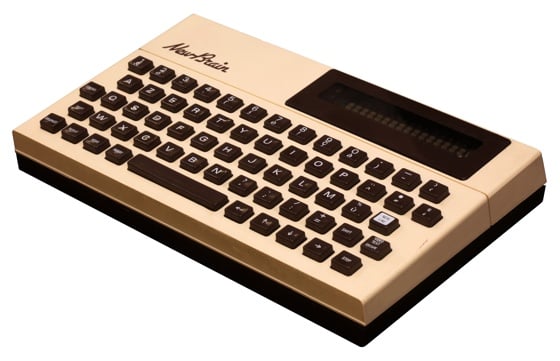 The machine started out at the then government co-owned Sinclair Radionics as the successor to the MK14 computer kit the company released in 1977. Radionics was broken up and the computer project ended up at another goverment firm, Newbury Labs, which made display screens. It was pitched to the BBC for the Corporation's computer literacy project, but it was rejected.
The NewBrain prototype eventually left Newbury for Grundy, in 1981, where it was queued up for production the following year.
The NewBrain was unusual in that it sported a 16-character calcultor-style display on the AD model, though it could also be connected to a TV or a monitor. If you had the money, you could pack up to 2MB of memory into it.
Impressive, but not enough to win buyers in 1982, not when it was a monochrome machine in an era of colour computing. Worse, Grundy punched out more NewBrains than it could sell and in 1983 was forced to cut its losses.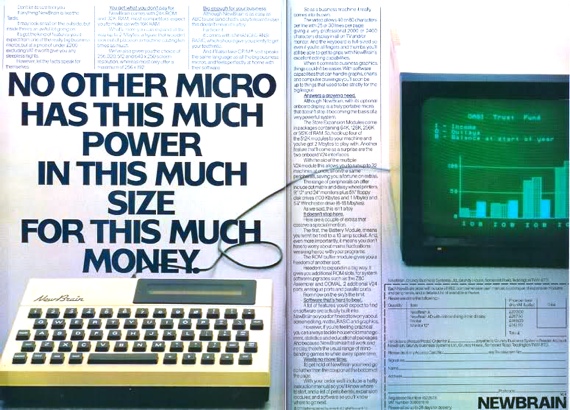 Release Date July 1982
Price £233 (Model A) £267 (Model AD)
CPU Z80A @ 4MHz
Memory 32KB
Developers Mike Wakefield, Basil Smith