Barclaycard customers trying to buy things online have found that their cards don't work. The Barclaycard problems started at 6pm yesterday and are still dragging on.
It appears as if it's a DNS failure that has booted the payment processor and all customer accounts offline. The site throws up "can't find the server at secure.barclaycard.co.uk" error messages.
In a typical case, a Reg reader attempting to buy plane tickets using his Barclaycard account yesterday evening was kicked off at the payment stage. An apology email from Barclaycard this morning suggested he try phoning up the airline to buy tickets instead.
Barclaycard customers on Twitter detailed other woes: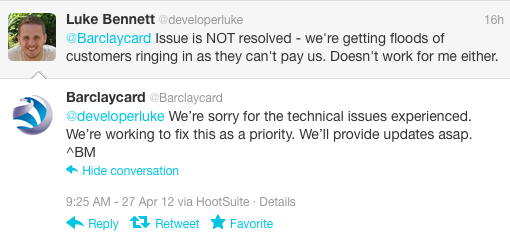 Barclaycard contacted El Reg to say: "We would like to apologise to our customers who have been inconvenienced. We have identified the problem and we are working urgently to fix it." ®