Fancy a POKE?
This was a time, I should point out, when schoolchildren like me would go into electrical shops such as Comet on the prowl for home computers on display that we knew the shop assistants didn't know how to operate. We would sneakily tap in the following code...
10 PRINT "BOLLOCKS"
20 GOTO 10
30 RUN
... and then literally run. Snigger. Happier times, eh?
Despite this, and although the ZX81 was clearly a pile of shite, I do remember dearly desiring a Spectrum. Why? I clearly didn't know how to program and my family only had one TV set, but this little computer looked just fantastic. It was small! It had a rainbow stripe! It had rubber keys! It looked even better than my eldest brother's brick-like Pong console and that had an awesome fake wood-grain formica finish.
My desire grew to immense proportions (ahem) the year after its launch when Pete Shelley released his second solo album, 'XL-1'. The last track on side 2 was a program for the ZX Spectrum.
Here's what it said on the front cover of the album: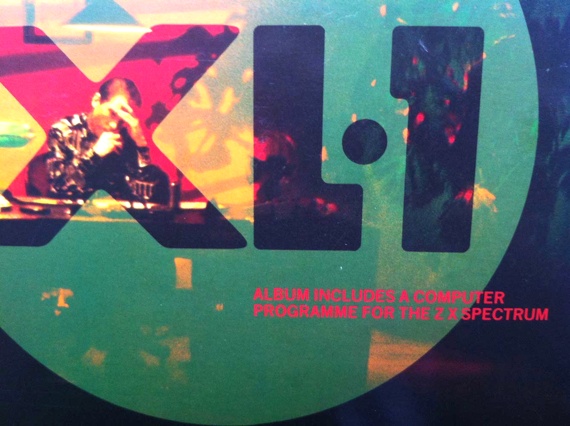 This is what it said on the back: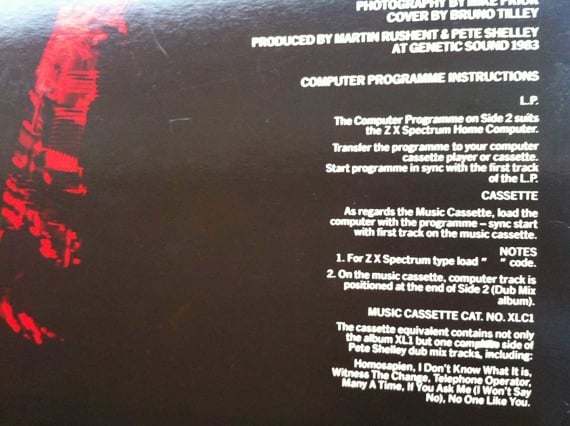 Here you can even see the track on the LP itself! Amazing!!!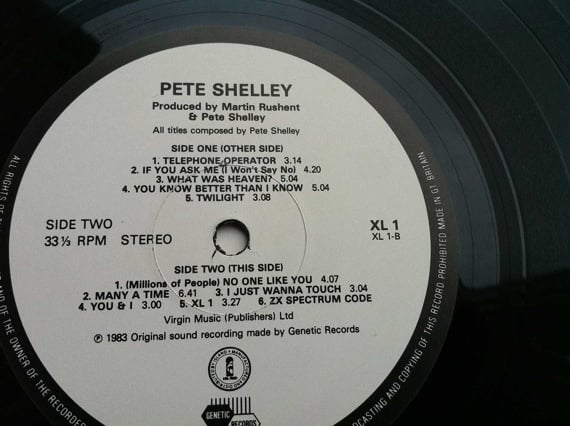 All I had to do was put a cassette recorder mic next to a speaker on my home hi-fi and tape the hideous screeching of this track, and load it back into a Spectrum - plugged into my family's only TV, of course - whereupon I was supposed to begin playing the album - the hi-fi was in a different room from the TV, by the way - and then launch the program as soon as the first song kicked in. I would then be treated to a visual feast of colourful animated lyrics that performed in time with the music.
Unfortunately, I didn't own a Spectrum. In 1983, I still had no money, no hope, no future and my virginity still resolutely intact. OK, I had a little money as I worked at Leeds-Bradford airport as a baggage-handler all summer before entering university, but I spent it all in record shops.
To this day, I have yet to experience this Spectrum program alongside Pete Shelley's synth-pop classic. Apparently, it looks like this…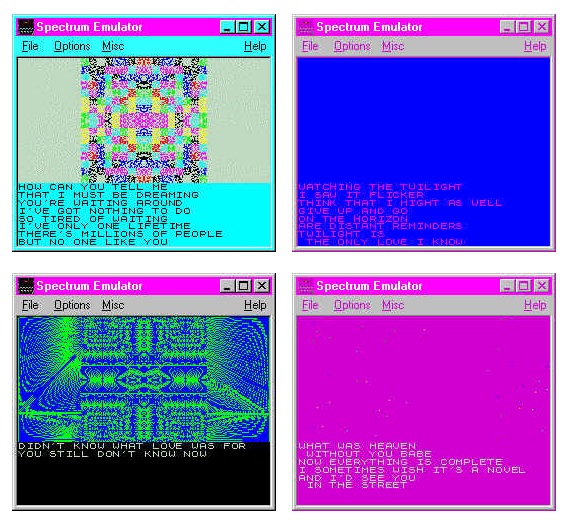 …which to my eye still suggests it could be a fabulous experience on a par with spending an evening amid mixed-sex company in a student flat watching Jane Fonda's Barbarella at midnight while toking.
Hmm, maybe that's another false memory. I was never hip or sexy - my mullet saw to that. It was decades before it occurred to me that Pete Shelley's Homosapien was a song about gay love.
"Homosuperior, in my interior..." Who'd have guessed?
Despite never having owned a Spectrum or even tried to find a way of getting the 'XL-1' audio program into a Spectrum emulator in more recent years, I am beginning to suspect that my false nostalgia for this little computer that I loved because I thought it looked good has remained a subliminal influence in my life.
For example, I wasn't working at the aforementioned newspaper as a reporter or an editor, but as an IT training contractor. And you know what I'm like with computers.
Here's a photo of my current Oyster travelcard wallet: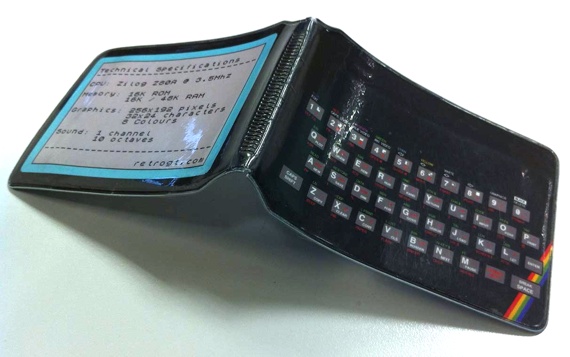 It was a birthday present from my daughter. That says it all, really. ®
Bootnote I said it would happen, you knew it would happen. I bought an Apple iPad 3 last weekend. I now invite trolls to abuse me below. Lord knows, I deserve it.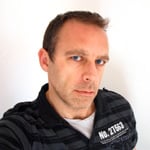 Alistair Dabbs is a freelance technology tart, juggling IT journalism, editorial training and digital publishing. He regards all his experiences with computers in the 1980s as formative, including those after-work hours slaving over a monochrome IBM PC at his first job in London, trying to help Larry buy "lubbers".