Western Digital, the world's number two hard drive vendor, is bouncing back after Thai floods wiped out disk assembly lines - but not quite enough to grab Seagate's crown.
WD has included just three weeks of acquired Hitachi GST's earnings, $614m, in its third quarter fiscal 2012 results, but even so has seen a pronounced increase in revenues to $3.035bn, up ever so slightly more than 50 per cent from the previous quarter's $2bn, and a 35 per cent increase on last year's third quarter.
Net income was $483 million. The previous quarter's profit was $145m and the year-ago quarter's $146m. Throughout the Thai flood crisis WD has consistently made profits even though the number of disk drive units shipped slumped to 28.5 million in the previous quarter. A chart shows this: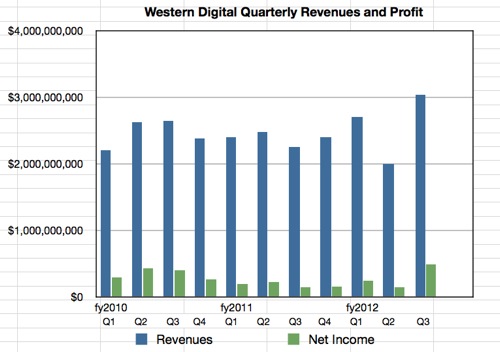 CEO John Coyne said this was "the strongest revenue and profit performance in the company's 42-year history".
Recovery from the Thai floods is progressing very well. Coyne said: "The recovery activities related to both WD operations and those of our supply chain partners impacted by the Thailand floods have reached a point where we now have the capability to adequately meet anticipated customer demand in the current quarter and beyond."
By acquiring Hitachi GST, WD had the chance of overtaking Seagate as the world's largest disk drive manufacturer. Seagate has bought Samsung's disk drive business, bulking up its revenues, and was less adversely affected by the deadly floods. The net result is that its third-quarter revenues were $4.4bn, more than a third higher than WD's, based on shipment of 61 million drives, compared to WD's 44.2 million drives.
The chart below shows the quarterly revenue trends for the two companies and we can see a large gap has opened up in Seagate's favour:
WD is still focussed on competing with Seagate on all product fronts, according to Coyne.
The tortuous Hitachi GST acquisition, first announced in March 2011, has obtained detailed regulatory approvals from China's Ministry of Commerce. WD is finalising its operations plan with the Chinese government. Coyne said in the earnings call: "Toshiba is awaiting the completion of the regulatory review process, associated with its agreement to acquire certain WD and HGST assets, a process that is expected to be completed within the next 90 days."
That means the WD/Hitachi GST combination will transfer to Toshiba enough facilities to produce 5 million to 6 million drives a quarter.
The operating expense reductions normally associated with an acquisition are being held up by the ministry and other regulatory agencies, which insist that Hitachi GST is maintained as a separate operation for up to two years, with separate WD and Hitachi GST research and development operations.
WD found out that Hitachi GST had signed long-term agreements (LTAs) with some Japanese customers. These, chief financial officer Wolfgang Nickl said, "provided for June pricing below March pricing".
Seagate has shifted to favouring long-term agreements with its customers as a way for both parties to secure stable supply and prices for disk drives. Asked about these deals, Coyne said: "I believe it is a highly desirable action to provide assurance of security or supply to customers and to be competitive in addressing market opportunity, thereby, increasing business with certain customers and securing that business into the future." We could see WD, and Hitachi GST, actively embracing LTAs with its major customers.
WD's roadmap includes, Nickl said, "continuing investments in strategic growth areas such as SSD, hybrid drives and the digital home". Currently neither Hitachi GST nor WD is shipping hybrid drives, ones with a flash cache inside the disk drive enclosure, like Seagate's Momentus XT.
The outlook for the next quarter is for revenue between $4.2bn and $4.4bn. The outlook for the disk drive industry as a whole is rosy. More online data is being generated and needs to be stored and disk drives are there for it as the storage medium du jour so to speak, and will remain so for many years. ®