This article is more than 1 year old
Ten... two-bay Nas boxes
Dual-drive data dumpsters
Freecom SilverStore

Freecom's SilverStore is a stylish product that combines lots of features and decent hardware. Under the brushed aluminium exterior you'll find a 1GHz Marvell 6283 CPU and 128MB of DDR memory. There's also the expected removable drive trays, which are probably fine, but feel like they could break given the force needed to remove them. The result of this is that I nearly threw a disk into the wall as it finally freed itself. Perhaps indoors is not the best place to swap disks – try an open field.
Extra connectivity comes in the form of a lone USB 3.0 port on the front and a USB 2.0 port at the rear. Uniquely there is also support for Tonido which provides remote access to your files through any web browser, or iOS, Android, Blackberry or WinPho7 device.
Performance is average, being pretty similar to the LinkStation, but it is a tad more expensive, especially at £750 for the 6TB version.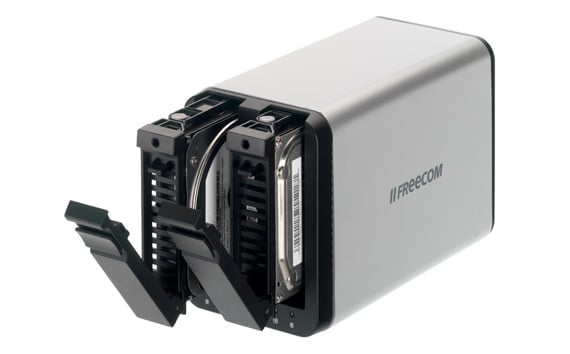 Reg Rating 65%
Price £140 (no disks), £314 (2TB), £390 (4TB), £750 (6TB)
More info Freecom
Freecom Dual Drive Network Centre

Unique to this product are its individually locking drive bays, so if one disk needs to go walkies, the other is still safe. Still, such thoughtfulness aside, this ARM9-based unit is not going to be my personal choice any time soon because it's deathly slow, with a peak read of 26MB/s.
The Dual Drive Network Centre also demands a licence code to unlock any of the media streaming or BitTorrent features. At one time, this cost £18, but Freecom has wised up and the relevant code is stuck on the supplied CD, so be sure to scour the box thoroughly to get these features activated.
Unpopulated, Freecom is currently offering this box for £88, which is a good deal cheaper than any of the others on test. If you've undemanding needs for something like a low-cost background back-up device, then it should be just fine.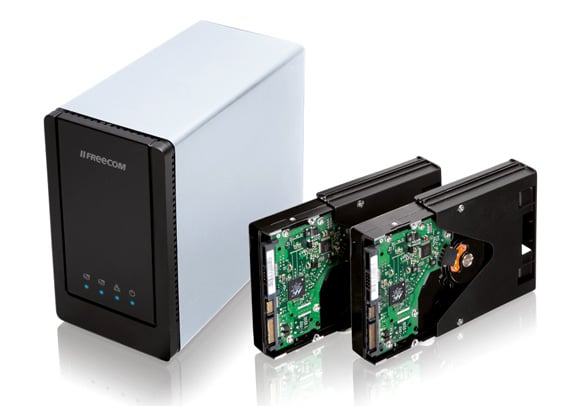 Reg Rating 55%
Price £88 (no disks), £263 (2TB), £323 (3TB), £331 (4TB)
More info Freecom