This article is more than 1 year old
Ten... two-bay Nas boxes
Dual-drive data dumpsters
Thecus N2200EVO

Thecus has also opted for an ARM9 chip in the N2200 EVO - this one being a dual-core 600MHz Cavium CNS3420 - which means that the performance isn't quite so dire as the Freecom Dual Drive Network Centre, but it's still dawdling. You'll spend your life at 30-40MB/s with this one.
Its design is impressive and features two Gigabit Ethernet ports. Drive removal is a snap too. Unfortunately, this just isn't enough to get over how painfully slow the user interface. Still, you can install extra modules and a licence for the Twonky Media server software is included, so you'll have no trouble streaming to any of your devices.
The N2200EVO will serve most needs and has a modest price, but the latest offerings from other vendors are quite a bit faster for not much extra. That said, the company's Atom-powered N2800 looks like a interesting alternative with its HDMI output, but alas costs around £350 unpopulated.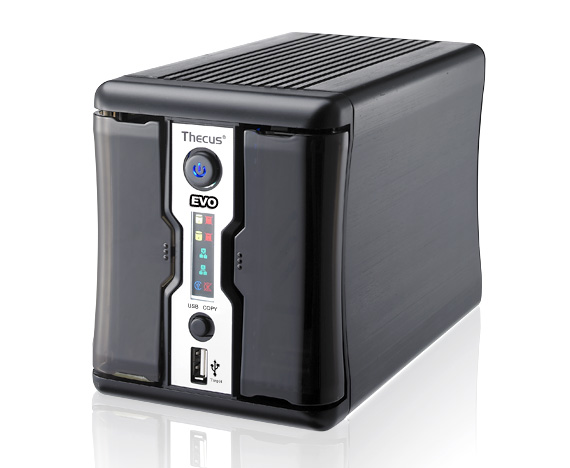 Reg Rating 60%
Price £125
More info Thecus
Western Digital My Book Live Duo

The My Book Live brings a much needed feature to the party: easily removable disks. It can be opened simply by pressing on the top and undoing a thumb-turnable screw, making drive swaps simple.
The 6TB unit I tested formatted as 5559GB and used two 3TB Caviar Green disks which use the variable RPM Intellipower system. Although it is a bit more expensive, I found the performance to be comparable to the Linkstation – not amazing, but just fine for a large archive volume.
What sets this apart from other mid-range systems is the WD 2go and WD Photos apps which give you mobile access to your files on any iOS or Android device. You can also go through a browser at WD2go.com, which will mount your remote shares onto your local desktop.