It's clear that things are pretty rough in Spain, but we wonder if it's really necessary for banking monolith La Caixa to rub its customers' noses in it.
No doubt La Caixa has plenty of account holders who, in times of plenty and easy credit, took out a couple of mortgages (flat in Madrid, nice little place in the country) and a meaty loan (flash 4x4 to drive to the nice little place in the country), but then found they couldn't pay them on their €2000-a-month salary.
As a result, banks like La Caixa now find themselves with an impressive portfolio of repossessed properties, while their previous owners are living, well, have a look here...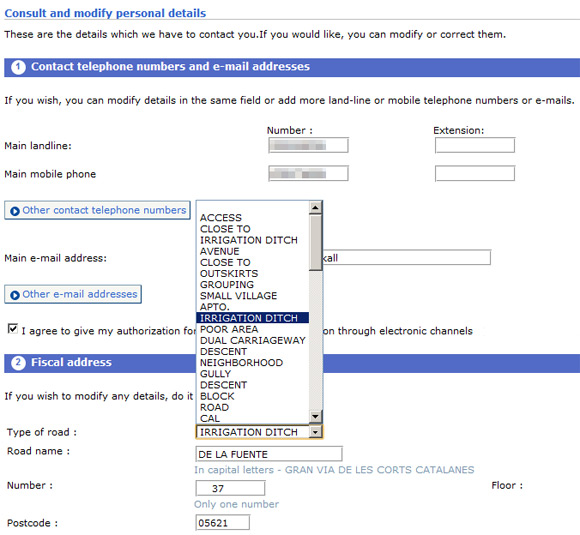 The above is a screengrab your humble correspondent snaffled while visiting La Caixa's website correcting an error in his address. In my case, I can mercifully still say I live on a "ROAD", rather than in a "POOR AREA" or "DUAL CARRIAGEWAY" or, God forbid, an "IRRIGATION DITCH".
I'm sure we'd all like to spare a thought for those poor souls who are huddling under canvas in some roadside gully while still having to pay back the money they ill-advisedly borrowed from La Caixa. ®
Bootnote
I had a chat with the manager at my local branch of La Caixa and told him I'd be happy to sort out the diabolical English on the website, in return for a fee proportionate to his chairman's salary, plus a hefty performance bonus, plus share options. I'm still waiting to hear back.