Google's latest search engine algorithm update – dubbed Penguin – is proving to be something of a dud, according to website owners not happy with the latest tweak.
The Chocolate Factory debuted its latest search engine optimisation (SEO) change last week, at which point its engineer Matt Cutts penned a blog post explaining the latest update.
He said Google, this time, was targeting webspam. The update is the latest tweak to Panda - the company's controversial search results ranking algorithm that the ad giant claimed had been designed to bury "low-quality sites" on its search engine.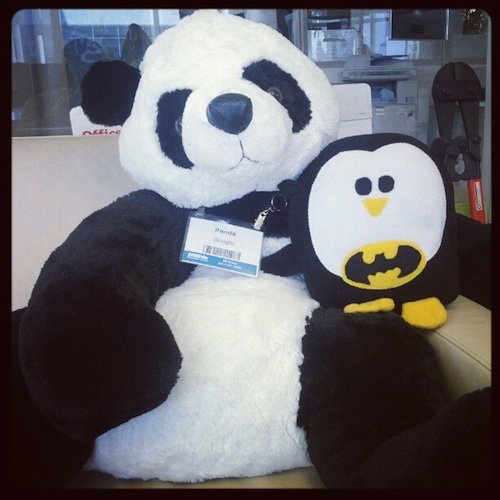 Google's Panda and Penguin love. Pic credit: Matt Cutts
"I've been in SEO for 10 years and this is the worst update in Google's history. I've been tracking results in the 'vision improvement' niche for many years," said one narked-off website owner using the handle MarkMark5 on the TrafficPlanet.com forum.
He went on to use the example of the search query "repair vision" on Google, which returned completely irrelevant results including an outdated article and another page that displayed no content whatsoever.
An online petition has already been created by webmasters who are unhappy with the Penguin update.
It reads:
With the recent Google Penguin update, it has become nearly impossible for small content based websites to stay competitive with large publishers like eHow, WikiHow, Yahoo Answers and Amazon.

Countless webmasters have seen their livelihoods vanish overnight. In a recent interview, Sergey Brin came out against 'Walled Gardens' of the likes of Facebook... Ironically, the Penguin update has created a similar garden that only admits multimillion dollar publishing platforms.

On [a] personal level, this update has ruined small online businesses, passive incomes and families' livelihoods worldwide.
The petition has so far garnered 285 signatures.
Following the webspam update from Google, Cutts has told web owners via his Twitter account to "report post-Penguin spam" by filling out an online form.
The Register has asked Google to explain what it is doing about the gripes expressed by some webmasters in response to the Penguin update. The company hadn't got back to us at time of writing, however.
The Choc Factory claimed at the launch of Penguin that only 3 per cent of search queries would be affected by the webspam update. ®