Disneyland Paris is said to be working on a new Star Wars zone that'll include a Jedi Academy and even a Mos Eisley Cantina restaurant.
Whispers an invasion of Disneyland Paris by the Star Wars empire circulated the park's official forums before the Disney and More Blog confirmed Disney Imagineers are indeed working on a more immersive Star Wars experience.
This will apparently take place in the park's Discoverland section and will include an overhaul of the Star Wars-themed simulator Star Tours.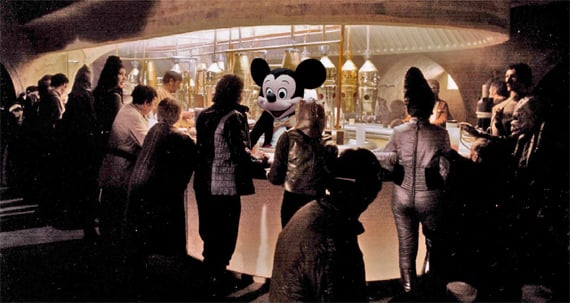 'We don't serve their kind in here'
The Captain EO eatery that sits next to the current Star Tours section will be replaced with a Jedi Academy similar to that at Disney Hollywood Studios, supposedly.
Meanwhile, the Pizza Planet restaurant - located behind Space Mountain - has been mooted as the future location for the Mos Eisley Cantina.
Alas, while details have yet to to be officially confirmed, "Star Wars land is supposed to come to DLP in 2015", the site says.
Parents keen to convert their kids to Star Wars fandom may want to start saving for a trip to the continent. It could even work out cheaper than taking your family to the cinema six times to see each of the Star Wars films re-released in 3D.
Certainly better for the eyes, at least. ®