At last: Violin to push out HANA appliance
It's why SAP invested
---
We should be seeing HANA running on a Violin Memory platform, a HANA appliance, probably within 60 days. This is a forthcoming Violin Memory array using TLC flash with embedded servers running SAP's HANA in-memory database.
Conversations with people who understand what's happening in Violin have added additional clarity to our view of the company's plans.
The idea is to get rid of network latency when serving up data from a storage array. With flash memory Violin is also getting rid of disk latency. By using TLC, 3-bit per cell flash, Violin is lowering the cost/GB. TLC flash is very cheap: about 2.25 x the cost of 15K SAS disks per GB.
The box may be called something like a Violin 8000, or some number bigger than 6000, we think, and will likely contain:
Intel Xeon 5600 servers, possibly two to four 2-core to 6-core processors. Some proportion of the server resource will run the flash array controller and management functions. The others will run HANA.
3-bit (19nm NAND flash), from Toshiba we think. The existing Violin 6000 has up to 32TB of MLC flash. We can envisage up to 48TB of TLC flash in the same 3U rackmount box. This will be over-provisioned, we think, and use wear levelling and other techniques to reduce the number of writes and get an acceptable endurance from the TLC flash.
Non-blocking crossbar switch running at memory speeds between all of the NAND and all of the CPUs. There will be ample CPU and memory for the use case.
Network interfaces will, we think, be 1 and 10Gbit/E.
Violin already has RAID protection in the 6000 box. The coming system will add:
Deduplication
Snapshots
Cloning
Mirroring and replication
Disaster recovery
Thin provisioning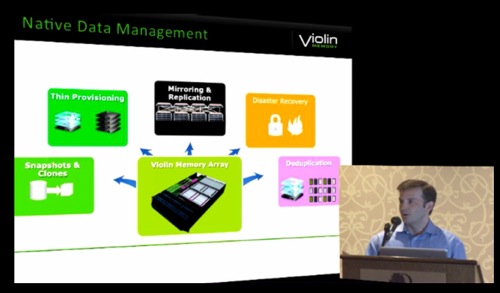 Violin SW CTO Jonathan Goldick and slide at Solid State Storage Symposium
These new features will start being announced "this calendar year", according to Violin Memory's software chief technology officer, Jonathan Goldick. Goldick was talking about the tech at the Solid State Storage Symposium held in San Jose on 25 April. See and hear his video presentation here (check just past the 12-minute point and onwards to find the futures bit). We can expect announcements in the next 30 to 60 days.
Goldick said the aim is to provide the same enterprise-class set of features as those found in a tier 1 enterprise storage array.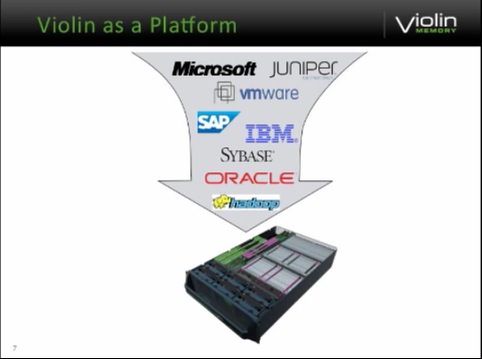 The green items in the box are servers
Software use cases are:
SAP HANA in-(flash) memory database appliance;
Other databases such as ones from Microsoft, IBM, Oracle and Sybase - VMware virtual desktops; and
Big data analytics
Referring to the platform slide above, Goldick said: "You will see announcements from among these partners of their software running directly inside our box."
It's about having the data and the application in the same place.
There are two focuses here. One is on optimising capacity and the second is on optimising performance.
By using deduplication, which we are told Violin now has, Violin is lowering the cost/GB and can take it below the cost of fast spinning disk: 15K Fibre Channel drives. Capacity-Optimised flash arrays, like XtremeIO, Pure Storage, GreenBytes, Tintri, and SolidFire offer deduplication ratios of between 3:1 to 5:1. A source said: "We can see that the cost/GB of solid state Capacity-Optimised flash is starting to become less than magnetic media. We are talking now – it has happened."
Optimising performance is being done by reducing latency so that an I/O-bound application can run as if it were not I/O-bound at all, with all data accesses occurring in microseconds, at RAM or flash speed. The factors affecting latency in I/O-bound applications are:
1) Bandwidth – Higher bandwidth means less time elapsed to send a serial packet from A to B. 8GB/sec has half the transmission latency of 4GB/sec Fibre Channel.
2) Network driver latency – Typically the CPU on the server has to intervene for Ethernet but the HBA offloads the work and has lower latency for FC.
3) Network switch congestion – Packets get buffered and delayed in delivery; iSCSI is more likely to behave like this.
4) Deduplication – Symbol lookups.
5) Media rotational delays (driven by rotational sped of media).
6) Garbage collection cycles.
7) Seek delays on magnetic media.
8) Compression.
Violin is pressing on with its intention of having its memory array plus embedded servers become an application platform and not just be a variant storage array using flash technology.
This is Violin Memory building something like an Oracle Exadata or Exalytics system, but faster – and no doubt cheaper – storage, servers, and software with host network interfaces, all in one box. It is also similar to EMC's idea of running applications using spare X86 engines in its VMAX arrays or X86 processors in its Isilon scale-out filers.
As far as we know EMC has no plans to have applications running in its Project Thunder box. ®
Similar topics
Narrower topics