EMC's Project Thunder stuffs Lightning in a box
Collected flash
EMC's Project Thunder is boxing up VFCache PCIe flash cards and networking it to servers.
VFCache is EMC's PCIe-connected flash memory card, known before launch as Lightning, and functioning as an application-accelerating cache.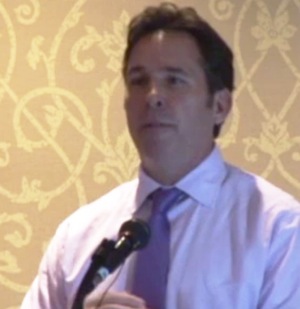 Brian Sorby at the Solid State Storage Symposium
EMC's Brian Sorby, the western divisional business development director for EMC around flash technology, spoke about the tech at the Solid State Storage Symposium. Sorby said Project Thunder, which provides server networked flash, takes all the VFCache cards (PCIe flash cache) out of the servers and houses them in a networked box forming a cache area network, a CAN, or server area network.
It is a scalable and sharable extension of VFCache, and is optimised for latency and IOPS intensive applications and for both reads and writes. VFCache is just a read cache for an individual server.
The Thunder box will be a 2U or 4U appliance with terabytes of PCIe flash. It will have 10s of GB/sec of bandwidth, millions of IOPS and low latency under load.
Thunder will connect to downstream servers via InfiniBand or 40Gbit/s Ethernet. It will be sharable for clustered workloads, and will run a "very lightweight, real-time operating system" with an optimised RDMA host data path and VFCAche integration.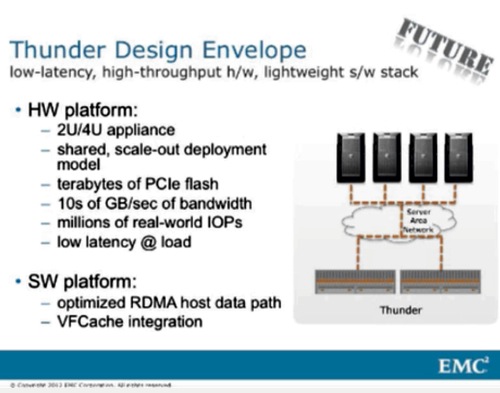 From Solid State Storage Symposium
The box will be populated with VFCache cards. Existing server VFCAche software in servers will communicate to the Thunder array. The box complements blade servers with dense CPU, memory and connectivity resources. One part of the idea is to avoid populating every server with PCIe flash cards (take that Fusion-io). Another part of it is to get rid of the existing SAN disk and network bottlenecks.
The Thunder array will scale out with multiple boxes.
Eventually FAST in-array tiering technology will be able to automatically move data between VMAX and VNX arrays and Thunder arrays, and VFCache cards.
Applications that could benefit from using it include Oracle, SAP and Exchange Server. EMC will hope that its customers will prefer to buy server app-accelerating flash technology from a trusted advisor, itself, rather than from an unknown startup.
Thunder will not run applications inside the box; it has no servers in there to do so. It cannot be used to run HANA and EMC will have no direct product competition with Violin's coming HANA appliance until it can run apps like HANA inside VMAX arrays. ®