Apple iTunes users are peeved at being made to answer a three-part questionnaire about their cars and where they had their first kiss as part of a compulsory security regime.
The new measures sparked outcry on the support forums with punters deriding the interrogation as easy to guess and inappropriate. Fanbois are required to select a trio of questions from three menus and fill in the responses, which are used to verify the user's identity at a later stage. The additional credentials supplement the email address and password pair needed to log into an iTunes account and purchase stuff.
The questions include: "What was the first car your owned", "What was the first album you owned", "In which city were you first kissed", "What was the first concert you attended", "Who was your least favourite teacher" and "Where were you on January 1, 2000".

The first set of iTunes security questions
In particular, customers on the Apple forums have criticised the questions for asking about stuff that isn't terribly private - especially in the days of Facebook and blogs when a bit of web searching could turn up the correct answers.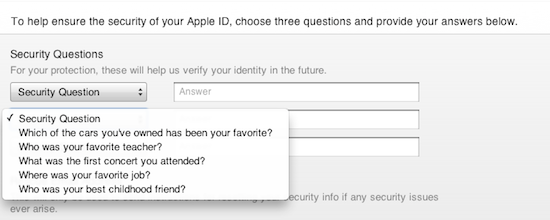 The second set of security questions
Other objections include the way that the change was sprung on users without warning, and that fanbois resent not being able to choose their own, as one put it:
The questions are not secure, some are public knowledge and some I don't even know the answer to myself, so I would have to fake an answer, which then I won't remember.
Another makes the point that basing security questions on "favourites" and "firsts" is a bad ideas as favourites can change over time and firsts can be hard to remember for older people. And then even if users may remember the answers, there can be multiple ways of writing them.
As this punter put it in this plangent complaint:
My particular sore point is the questions like "what is your favorite car ?" Erm, right now? Aston martin V8 ... 5 minutes pass... Oh, now it's the new BMW 1 series. APPLE, PLEASE DON"T MAKE STUPID ASSUMPTIONS WHEN COMING UP WITH THESE QUESTIONS !
The questions also represent a "Cupertino" view of the world, which isn't always relevant to their global consumer base. CalfMac complained:
I got this trying to rent a movie. I literally cannot choose from the 2nd set of questions, because none of them apply to my personal life. Whoever designed this does not seem to have very much cultural awareness.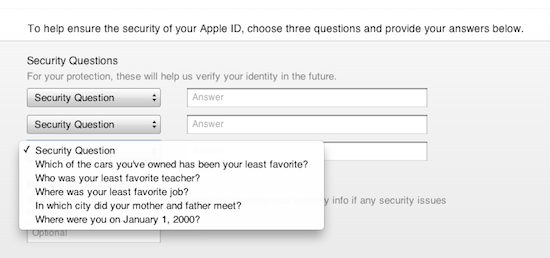 The third set of security questions
With 250 million credit cards in its databases, the iTunes Store is an obvious target for crims who want to wangle their way into people's accounts, which these verification questions - introduced earlier this month - are supposed to defeat. But it's not just crooks that Apple has to worry about. It's toddlers, too.
The Foxconn-brander is facing a class-action suit and a government probe into whether kids are able to download from iTunes too freely, landing their parents heavy bills.
The toddler problem prompted Apple's last change to iTunes security procedures in early 2011, when it removed a provision that allowed customers to purchase stuff for 15 minutes after logging in with a password, rather than require them to enter a password for each download queued.
Apple did not respond to a request for comment from The Reg. ®