Analysis A new report by intellectual property campaigners has again put the UK on the naughty step.
This year, as last year, activists list the UK alongside Brazil and Thailand as having the most "oppressive" copyright laws in the world. The report was published by an international NGO called Consumer International, but this delegates the work out to a Soros-funded group called A2K.
It's certainly a bold point of view. How does it arrive at this conclusion? Helpfully, we have the founder's testimony to aid us.
A2K Network's world view is that "publicly owned" knowledge is good, but "privately owned" knowledge is bad. It considers this a binary, zero-sum choice - and it is also one that trumps all other considerations.
So, by A2K's yardstick, it doesn't matter if the knowledge is easily accessible to citizens. It doesn't matter, either, if a wide range of cultural material is available: a plurality of goods. Or that all this material is accessible to us at a low cost. Private ownership is the most important factor in any consideration; private ownership is evil.
"The access to knowledge (A2K) movement first came together in 2004 to respond to a crisis, namely the increasing imbalance between privatized knowledge (that which is controlled by the intellectual property rights holder) and the knowledge commons (that which is 'owned' by the public)," founder Vera Franz explained last year.
And this leads to some interesting policy dogmas as a consequence. Any economic activity around "private knowledge" - even if it creates jobs, or makes a plurality of cultural good available - is viewed with suspicion. It's a bad thing, we're told.
Creative industries in the EU currently add some $560bn to GDP annually - the proportion in the UK is higher, given our history as a highly innovative country and the status of English as a global language. Core creative industries account for 6.2 per cent of GDP and 5.4 per cent of jobs. But all this is a hindrance on the spread of "public goods".
In the OSI/A2K world view, the creative economy exists to deprive people of publicly owned goods. It is always conspiring against the public interest.
From this logic, we can see that the "Access 2 Knowledge" campaign isn't really about access to knowledge, but ensuring knowledge is freed from those "private" property rights and remuneration rights, and any economic incentives that reward its production.
The word "private" is a dog-whistle word: designed to alert suspicions. But another way of expressing it is as an individual human right, enshrined in conventions.
If individual inventors and creators are weaker and poorer, then to the campaigners, this is simply collateral damage. It may even be used as evidence that the system is improving. Fewer private rights, see?
And this is clear from the report. Protections for inventors and creators cause a nation to drop in the "freedom" rankings. Take Malawi, which CI/A2K places ahead of the United Kingdom in its consumer freedom rankings.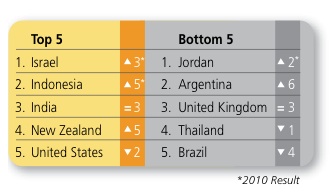 In Malawi, harmful counterfeit drugs that injure citizens and counterfeit goods that destroy local businesses - which compete with multinationals - are commonplace. The government there has tried to protect small local manufacturers from ripoff merchants, but the Soros campaigners frown on this and reverse the moral polarity.
In A2K's world the knockoff merchants and counterfeiters are freedom fighters. Assertions of innovator's rights harm the public. Similar criticism awaits African musicians who dare to protect their work. They are depriving the "commons". They must make sacrifices for our gain.
Another consequence of this position is also puzzling. The campaigners' deep suspicion of creative industries takes them into a dark, paranoid world view. It's a psychology that requires constant threats, real or imagined - and Hollywood has been too happy to play the part of bogeyman.
For example, A2K insists that recently unsuccessful legislation proposals such as SOPA and PIPA "extend" copyright. But extensions to copyright in the past 50 years can be counted on the fingers of one hand. Recent laws attempt to push the existing and inadequate protections into the digital realm; they do not seek to extend the scope of protection into new areas of creativity.
By contrast, Oracle's current lawsuit may well - through case law - extend copyright into APIs and computer languages.
This paranoia is illustrated by this video, co-produced by Consumer International:
Note: this is NOT a parody