Apple to dominate tablet biz, PC market for years
Fondleslabs more popular than notebooks by 2016
Apple took a greater share of the tablet market during Q1 and, in a remarkable turnaround, will continue to do so through 2013, market watcher NPD DisplaySearch believes.
The exceptionally bullish DisplaySearch even reckons more tablets will ship in 2016 than notebooks.
Thus far the consensus has been that Apple's market share would inevitably decline. Yes, it would continue to sell more iPads than ever before, but booming sales of Android devices would nonetheless dampen Apple's dominance.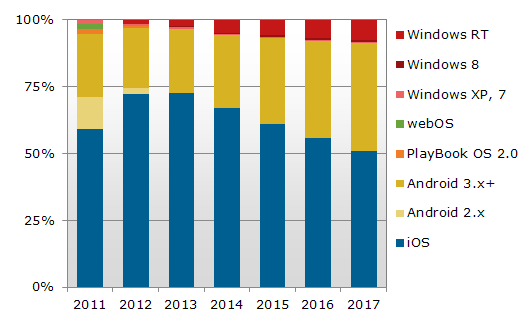 Source: DisplaySearch
Last year, Apple took around 60 per cent of the tablet market. This year, it'll be back up to 72.1 per cent, DisplaySearch's numbers show.
Android, by contrast will fall, from 35.6 per cent to 24.7 per cent. Windows, in all its forms, already available and yet to ship, will appear on less than three per cent of the tablets that ship in 2012, RIM's PlayBook OS on even fewer machines.
From 2013 onwards, Apple's tablet share will decline, though by 2017 it will still command a share of more than 50 per cent. By then, Android will have recovered its growth spurt and grabbed 40.5 per cent of the market. The ARM-coded Windows RT will have 7.5 per cent of the market by then. Other forms of Windows and PlayBook OS will argue over the remaining 1.1 per cent.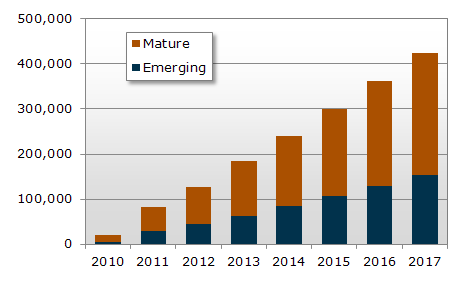 Source: DisplaySearch
Shipments of tablets will grow from 81.6m units in 2011 to 424.9m in 2017, DisplaySearch said and upped the forecast for 2013 from 168.9m to 184.2m.
"This forecast estimates that in 2016 more tablet PCs will be shipped than notebook PCs," it said. ®