This article is more than 1 year old
European Space Agency heads for Jupiter's moons
JUICE mission will inspect Europa, Callisto and Ganymede
The European Space Agency has decided against pursuing the New Gravitational wave Observatory (NGO) the Advanced Telescope for High-Energy Astrophysics (ATHENA) and will instead head for Jupiter with a craft dubbed the Jupiter Icy moons Explorer - or JUICE for short.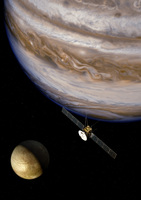 An artist's impression
of the ESA's JUICE probe
JUICE will launch in 2022 and cruise for eight years en route to the Jovian system. Once it arrives it will visit Callisto and pass Europa twice. The former moon is the most heavily-cratered object in the solar system. The latter is famously encrusted in ice (and Arthur C Clarke plots) and the probe will try to measure just how thick the frozen coverage has become.
That phase of the mission will take two years. In 2032 the spacecraft will enter Ganymede's orbit and spend a year or more observing what ESA says is "the unique magnetic and plasma interactions with Jupiter's magnetosphere in detail," an endeavour deemed worthy given Ganymede is the only moon in the solar system to generate it's very own magnetic field.
The Agency made the decision to pursue JUICE yesterday, after a process that kicked off with a 2004 consultation process to determine the ESA's goals. That program resulted in a 2007 call for ideas for large missions to meet the resulting Cosmic Vision's four scientific aims, namely:
What are the conditions for life and planetary formation?
How does the Solar System work?
What are the fundamental laws of the Universe?
How did the Universe begin and what is it made of?.
"It was a difficult decision to choose one mission from three excellent candidates. All three would produce world-class science and put Europe at the forefront of space research," said Professor Alvaro Giménez Cañete, ESA's Director of Science and Robotic Exploration.
The ESA will issue another call for large missions in 2013. ®