Symantec: Big as ever... just not growing
Tripled profits but flat revs in Q4 disappoint shareholders
---
Symantec earned a staggering amount of money in its latest quarter but is stuck fast at a $1.6 to $1.7bn quarterly revenue level, seemingly unable to grow.
It made $6,73bn in its fiscal 2012 year (fy212), a huge sum, and up 9 per cent on the prior year's $6.19bn. The final fy2012 quarter saw revenues of $1.68bn, which was down on the previous quarter's $1.72bn, and ever so slightly up on the year-ago quarter's $1.67bn, Symantec describing this comparison as "flat."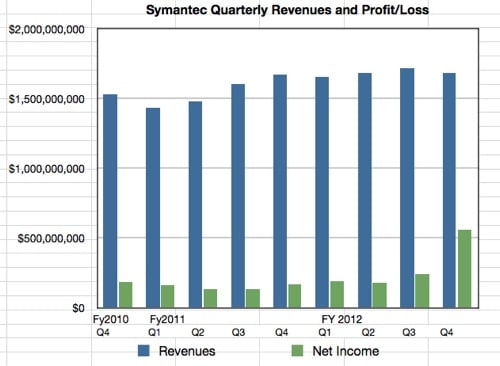 It had previously said fourth quarter earnings would come in lower than expected because customers were buying fewer storage and server management product licenses, preferring subscription contracts it appears.
Quarterly net income was boosted by the sale of its interest in the Huawei-Symantec joint-venture, reaching $559m; the previous year's figure was $166m and the previous quarter's was $241m.
The crisply suited Symantec CEO and president, Enrique Salem, said: "We posted 9 per cent growth for fiscal year 2012, driven by strength in our backup, Software-as-a-Service, data loss prevention, and managed security services offerings." Symantec hopes customers do move towards cloud-delivered services as it has a product/service roadmap suiting that.
Symantec's business segments performance went like this:
Consumer segment at 31 per cent of total revenue grew 2 per cent year-over-year.
Security and compliance is 30 per cent of revenue and increased 8 per cent over the year.
Storage and server management is 35 per cent of revenue and decreased – oops – 5 per cent year-over-year.
Services are 4 per cent of revenue and declined 6 per cent.
Revenues from the EMEA geography represented 27 per cent of total revenue on the fourth quarter and were down 5 per cent. Asia-Pac at 19 per cent of revenues jumped up 15 per cent. The Americas declined 1 per cent and represented 54 per cent of total revenues for the quarter.
Next quarter Symantec hopes to see revenues of between $1.645bn and $1.66bn, effectively flat compared to a year ago, and down compared to this latest quarter. So ... is Symantec running out of growth? It looks like it. Asia Pacific looks as if it has more growth to harvest but EMEA and the Americas looks mature.
Where next?
Symantec is a huge, well-run, software elephant which is lord of all it surveys, but what it surveys isn't enough for it to grow very much from its $6bn to $7bn annual revenue run rate. Who is complaining? Shareholders might; they don't get dividends and the stock price has trended down. In May 2011 it traded at a high of $20.42.
Now they can buy shares for $16.43. It's been lower, $15.15 in December last year, but we can't call this a growth stock. The company has been supporting the stock price with share repurchases; it bought 12 million shares for $200m at an average price of $17.88 in the fourth fiscal 2012 quarter, having spent $893m in the year as a whole.
In other words Salem and his execs cannot see any acquisition target that would bring in the same benefits as re-purchasing 51 million shares in fiscal 2012.
What so we think about that? Not a lot frankly.
It seems to us that, if you are re-purchasing shares you are not a growth stock and should consider paying dividends. If you think you are a growth stock then get growing – but Symantec isn't, at least not in the short term, and, apart from the Asia-Pac geography, appears to have no significant growth prospects at all.
All it can do, and is doing, is to run the current businesses as well as it can, safeguard existing revenue streams and go with its customers cloud-wards at a considered pace. It isn't, for example, buying Dropbox or Box, or otherwise getting into cloud file-sharing. It isn't investing in database virtualisation, like Delphix is, and that could be huge.
A brutal view would be that Symantec is in its comfort zone, safe and moderately happy but basically going nowhere. An optimistic view is that Symantec is expanding rapidly in the Asia-Pac geography and poised to boost earnings significantly from cloud products and services. We'll see. ®
Note: Comments to Storage Forum, Symantec – where next? topic please.