Virgin Media has become the first major telco in Blighty to implement a court order blocking access to notorious BitTorrent search website The Pirate Bay.
The move follows a demand in London's High Court late last Friday from Mr Justice Arnold, who told Virgin Media, TalkTalk, BSkyB, Telefonica and Everything Everywhere to comply with preventing those companies' broadband subscribers from surfing to TPB.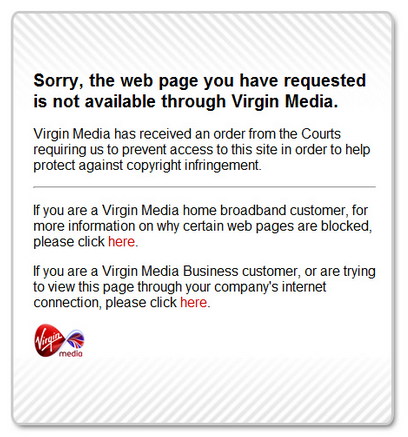 Screengrab courtesy of Reg reader Colin Lyman
As we previously reported, national telco BT was missing from the order. That provider has been given more time to comply, but we understand that an announcement from BT about cutting-off The Pirate Bay – which has been one of the most popular sites on the internet – is imminent.
The High Court ordered the five telcos to block Sweden-based www.thepiratebay.se, which serves up "magnet links" to music, movies and other file downloads.
Virgin Media's swift action meant that, as of Wednesday, around 4 million of its customers were in theory unable to access TPB.
In practice, some of those punters have already been revealing workarounds via Twitter to foil the VM blocking method. There are also The Pirate Bay web addresses that were not covered by the court order.
The Pirate Bay has also, unsurprisingly, offered up ways for its Blighty-based fans to circumvent the telco cut-off, which was spearheaded by the UK's music trade's association, the British Phonographic Industry.
One operator of the infamous site wrote:
Noone from TPB was invited to the court case, which would be normal to do in a democracy. This is not the first time this happens, it's been the same in most countries we're censored in. We have no right to speak since we're not rich.

Five ISPs got sued by the record companies to force them to block us. This is particularily [sic] interesting since music released and promoted exclusively here on TPB is currently in the brittish [sic] top charts. We are simply competitors that they just managed to squeeze out of their market, in a maffiesque [sic] way.
The blog post went on to list a handful of ways around the imposed block.
The Register asked Virgin Media to tell us how it had killed access to The Pirate Bay for its customerbase.
A spokesman explained: "It is a version of what we use for the Internet Watch Foundation blocklist, called 'Web Blocker'."
Earlier this week, the telco – like many of its rivals – said it would comply with the court order, but called for "legal alternatives", citing its recent agreement with Spotify as an example, to help tackle copyright infringement. ®
Similar topics