First look Samsung took to the stage last night to unveil its latest flagship smartphone, the Galaxy S III, before opening the doors for us hacks to give it a go.
Samsung claimed the S III is "designed for humans", which is a shame because my dog has been drooling for weeks with excitement. It does tap into both our connections to nature thanks to a Mother Earth-themed design, though. And, feeling nauseous from the overdose of cheese in Samsung's hour-long presentation, it was certainly a breath of fresh air to get my hands on the hyped handset.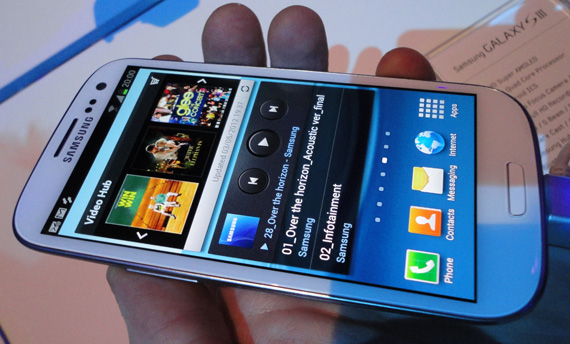 But while that slick rippling background - ripple animations that bear a remarkable similarity to Apple's Dashboard widget one - and natural soundscape gives Sammy's new baby a gorgeous feel, it's the 4.8in, 1280 x 720 PenTile OLED display that really left me gasping. It's a stunning exhibit, with a pixel density of 306ppi, vivid colours and fantastic viewing angles.
I also take back previous assertions that 4.3in is as large as I'd want my handset's display to be, because after playing with this bad boy it rocketed to the top of my wishlist. Perhaps we're all becoming accustomed to our tablet tendencies these days.
As Samsung pointed out, though, the handset extends its predecessor's screen size remarkably while keeping the dimensions of the device barely bigger, thanks to a thinner bezel. Overall, it is slightly larger. But it doesn't feel excessively so and certainly no encumbrance.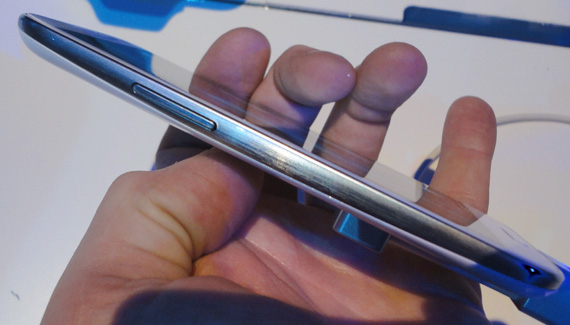 The S III packs a slightly more rounded design than its predecessor, and it feels to be of a higher build quality, a more Nexus-meets-Galaxy look to the product. It is very light - just 130-odd grammes - but still feels sturdy and I had no reason to think it wouldn't last through the inevitable two-year contracts.
The 8Mp camera seemed better than some I've seen, but the lighting in the demo hall wasn't good enough for a proper test. That will have to wait until we do a full review - real-world battery life testing and S Beam NFC-initiated Wi-Fi file sharing, likewise. Still, there are several photography features that snazz the S III up a bit.
There's the photo burst mode, smile and blink detection, and a seeming lack of shutter lag. There's also various social tools and organisation protocols that should keep the pernickety happy. While all a bit overcomplicated for my liking, it is an impressive setup that shows Sammy has really paid attention to detail.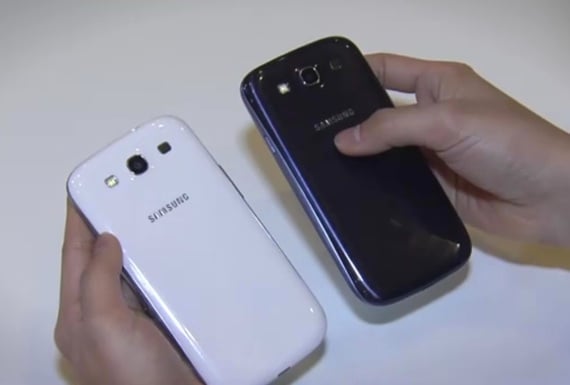 The Android 4.0 Ice Cream Sandwich build was very responsive, the refreshed TouchWiz UI easier to use than ever, and there was no noticeable lag when opening and switching between apps. That quad-core 1.4GHz processor is keeping this phone in the fast lane.
Samsung has upped the game with a feature set as long as the event's guestlist too.
Several of these stand out, with Samsung's version of Siri, S Voice, the first to tickle my fancy. Even in the crowded room, S Voice picked up my commands without the need to repeat and while I have never been a fan of voice-activated control, it certainly appeared more responsive than the technology employed by Samsung's Cupertino rival. The big question is, does it too require an internet connnection to work. Again, that's one for the full review to answer - Samsung wasn't saying.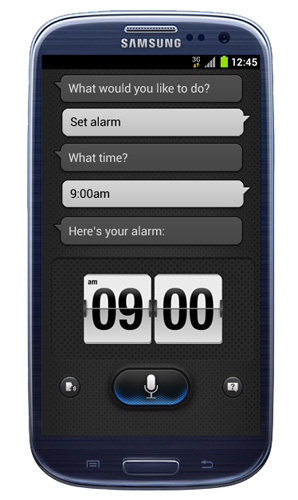 Other features include Direct Call, which immediately rings the number you're looking at when you lift the phone to your ear; Smart Alert, which vibrates as you pick up the handset should there be a notification; and Social Tag, which recognises your contact's faces in photographs and offers to send it to each of them. While I'm sure some of you will have uses for these, I was rather unmoved.
There is also the ability to continue watching videos in a popup screen while browsing other apps and webpages in the background. Could come in handy, I suppose. Personally, I'm happy to put video on pause while I direct my attention elsewhere. No big deal.
The Smart Stay function caught my eye, quite literally. The S3 uses eye-detection algorithms to pick up when you're looking at the display, only dimming it as you glance away. It's a bit gimmicky, but potentially useful.
The amount of times I have had to re-enter type my passcode into my current blower after spending too long reading an article is a frustration I could live without. Samsung's solution to this problem is simple, and it worked.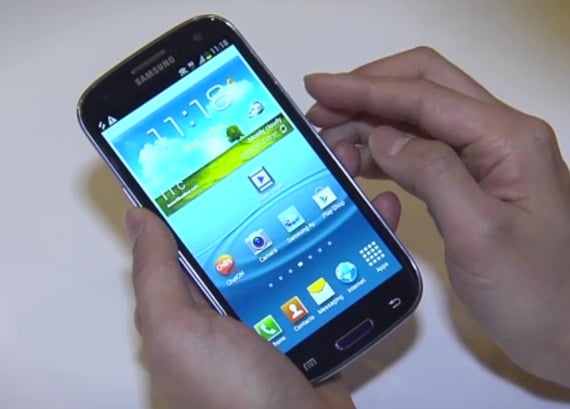 Overall, my first impressions were a definite positive and the Samsung Galaxy SIII has undoubtedly raised the bar.
Whether it will be the best Android phone on the market remains to be seen, but if all the features and specs live up to their early promise, the S III will take some beating when it hits shelves here on 30 May, a day later than Samsung told us yesterday.
Your move, Apple... ®