Microsoft's dumpster-diver partner strategy is rubbish
Redmond should buy big or go home
---
Open ... and Shut Microsoft is not the worst corporate investor on the planet. But it's clearly not the best either, and threatens to undermine its own attempts to be relevant in growth markets like mobile and internet by continuing to buy buy stakes in or partner with also-rans like Barnes & Noble, Yahoo! and Nokia.
Of course, it may be that Microsoft can't help but rely on third parties to help it become what it clearly is not: a consumer technology company.
Yes, Microsoft has the XBox and has been bolstering it with the very cool Kinect technology. But in case you missed it, Microsoft's Entertainment and Devices Division, where the XBox sits, lost money for the first time since 2009 in the last quarter. Microsoft managed to post decent numbers overall, but only because its enterprise business saved the day.
Why the fail in its XBox business? Some blame has to go to the fact that the XBox hasn't been refreshed in years and won't be again until next year, though Microsoft pointed to overall softness in the gaming market for its miss. As TechCrunch points out, however, the bigger reason is likely the rise of Apple, with more gaming shifting to the iPad and iPhone, which receive annual updates, and away from gaming consoles, which evolve much more slowly.
All of which leaves Microsoft in a quandary: consumers are leaving Windows Phone in droves, and nearly every attempt it makes to become relevant in mobile and the web is met with failure. But how will Redmond overcome this?
One answer is to buy stakes in companies with a foothold in these markets, or simply to partner with them. On the positive side Microsoft bought into Facebook and has benefited from this. Microsoft, incidentally, also apparently tried to dump Bing at Facebook's door – what's one loss-generating search business between friends? – but Mark Zuckerberg wasn't interested.
Microsoft's other investments have been major misses.
Microsoft first tried to unseat Red Hat's growing dominance in the data center by subsidising Novell. Despite spending hundreds of millions of dollars helping Novell mischaracterise Linux as a patent quagmire, Red Hat has grown from strength to strength.
But most of Microsoft's deals have been on the consumer side, starting with its failed $4.6bn bid for Yahoo!. Yahoo! has been on a downward spiral for years, and a merger with Microsoft would have been unlikely to stop it. Rumours are now swirling that Microsoft is back at the Yahoo! trough, however, planning to buy a 15 per cent stake in Yahoo!.
Perhaps Microsoft sees signs of hope, given that its 2009 search deal seems to have helped narrow Google's lead in search, which stood at 85 per cent market share in 2009 and now has fallen to 65 per cent.
Maybe. But I wouldn't bet on -1 plus -1 somehow equalling two.
Which seems to be Microsoft's fuzzy math with Nokia, too. The Redmond giant tied up a broad partnership that sees Nokia using Windows Phone as its principal smartphone operating system. Meanwhile, the market has decided to give all its love and profits to Apple and Samsung, to the point that one analyst warns that Nokia is on the "brink of failure".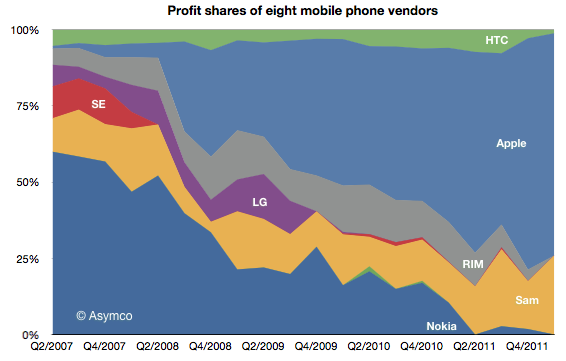 Microsoft isn't to blame for Nokia's troubles. Those started long before the two started fraternising. But Microsoft certainly hasn't helped.
Nor is Microsoft likely to ease Barnes & Noble's problems with its Nook ereader device. Microsoft put $300m into Barnes & Noble's Nook subsidiary, which according to some speculation might lead to the Windows Phone OS finding its way to reader devices. But, again, it's hard to see how this negative math (-1 + -1 = -2) will somehow add up to a positive outcome for both companies.
Microsoft's policy of buying into the industry's detritus is a losing strategy.
Perhaps it could learn from Red Hat, which tried for years to develop a compelling middleware strategy, including building its own JOnAS application server. Ultimately Red Hat learned that you if you're going to buy your way into a winning position in a market, you have to buy the winning player in the market. Red Hat bought JBoss, and has been cleaning up in the middleware market ever since.
It may be that no amount of money, whether invested in internal development or acquisitions or partnerships, can make Microsoft a major force in consumer technology like mobile. But if Microsoft disagrees, and apparently it does, it can at least go big and buy a market leader, rather than scraping for deals in the dumping grounds of the industry. ®
Matt Asay is senior vice president of business development at Nodeable, offering systems management for managing and analysing cloud-based data. He was formerly SVP of biz dev at HTML5 start-up Strobe and chief operating officer of Ubuntu commercial operation Canonical. With more than a decade spent in open source, Asay served as Alfresco's general manager for the Americas and vice president of business development, and he helped put Novell on its open source track. Asay is an emeritus board member of the Open Source Initiative (OSI). His column, Open...and Shut, appears three times a week on The Register.