This article is more than 1 year old
Loose screw caused airplane iPhone 'fire'
Ham-fisted screen replacement fingered
When an iPhone started smoking on a regional flight last November, it was easily enough dealt with: the phone was put in the aisle and extinguished.
Now, an incident report completed on Friday, May 4, by the Australian Transport Safety Bureau has identified a dodgy screen replacement as the cause of the flare-up.
According to the ATSB's investigation (AO-2011-149), the Rex flight had touched down in Sydney in November 2011 when a crew member noticed smoke coming from near a passenger seat. This turned out to be an overheating iPhone, which was also glowing red. "The cabin crew member … instructed the passenger to throw the source of the smoke into the aisle [and] discharged a fire extinguisher onto what was later identified as a mobile phone."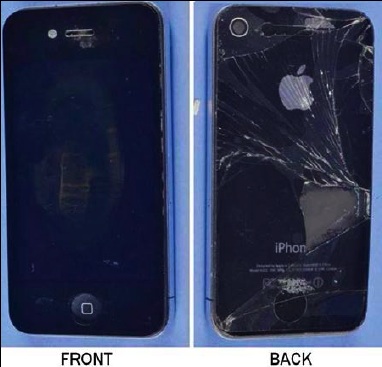 The phone after the fire. Source: ATSB report
The ATSB sent the phone to the US for examination under the eye of the FAA. What the US facility turned up was a screw, removed during screen replacement, and misplaced inside the phone's battery cavity.
According to the investigation, the passenger had the screen replaced, but not by an authorized Apple service provider. The missing screw, probably meant to hold the external 30-pin connector in place, had shorted the battery terminals to cause the problem.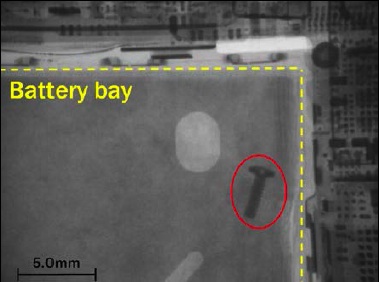 X-ray shows the stray screw. Source: ATSB report.
What the report also describes is a litany of dodgy repairs. As well as dropping a screw inside the phone, the repairer also lost one of the screws that fastens the iPhone's main board; put two screws used to fasten cable in the wrong spots; damaged the adhesive that holds the main board in place; removed the two "liquid contact" indicators; and deformed a metal clip near the battery.
As the ATSB notes, the findings indicate "a lack of appropriate quality control on behalf of the unauthorized repair facility". The Bureau also says the incident emphasizes the need for lithium-ion battery-powered devices to be carried in the cabin rather than as checked-in baggage. ®