Giant herbivorous dinosaurs may have emitted sufficient methane to warm the Mesozoic  climate, according to a new paper in Current Biology.
The new theory, expounded in the article Could methane produced by sauropod dinosaurs have helped drive Mesozoic climate warmth? starts by advancing a theory that very large, long-necked dinosaurs, aka sauropods, walked the Earth in greater numbers than previously assumed. The paper also cites research suggesting that sauropod metabolisms were quite fast and concludes that the giant creatures could therefore have been rather efficient makers of methane.
After a few calculations about likely sauropod prevalence and plant intake, methane emissions of modern cattle, and consideration of historical records about methane's prevalence in the Mesozoic era, a theory is advanced that there were enough sauropods emitting sufficient methane to have an an impact on ancient climates, thanks to the fact that Methane is a more potent greenhouse case than carbon dioxide.
The article even goes so far to suggest that sauropod flatulence made almost as much methane than modern sources such as cattle farming and agriculture, which have been fingered as one of the likely causes of anthropogenic climate change.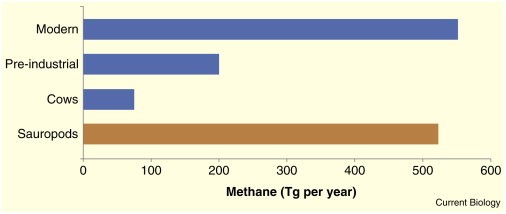 The three researchers who penned the paper aren't blaming the Mesozoic's warm, wet climate entirely on sauropods and write that "wetlands, forest fires, and leaking gasfields" may also have contributed to the presence of atmospheric methane at the time. But the trio do note that the advent of sauropods would not have been possible without a lot of CO2 in the atmosphere and the warming it created, as this created an environment which plants thrived which in turn created numerous ecological niches for giant herbivores. ®