Investors queue for chance to glance at Zuck's FACE
But scrutinising the BOOK might yet throw up some furballs
---
Mark Zuckerberg told investors yesterday that he wouldn't hesitate to splurge another $1bn on a Web2.0 app.
The Facebook boss presented his initial public offering plans to hundreds of money peeps in New York on Monday ahead of floating the company on 18 May.
He defended his decision to buy photo-sharing outfit Instagram for more than $1bn in a deal that was personally struck by Zuck without any involvement from Facebook's board members.
The 27-year-old founder of the world's biggest social networking website has some investors concerned over his audacious moves – the Instagram deal being the most recent example.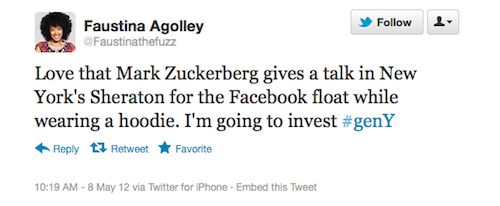 Yes, it's so great that a billionaire is ONE OF US
However, Facebook is looking to raise as much as $10bn and yesterday at the Sheraton Hotel in New York people were reportedly queuing up around the block to catch a glimpse of copper-haired Zuckerberg, who was in the Big Apple to present his IPO to investors.
After the buzz around Facebook's roadshow dies down, Zuck will have about 57 per cent voting control of the company and will own roughly 23 per cent of the stock.
The value of the dominant social network could reach as high as $96bn assuming Facebook can convince those investors queuing out the door yesterday that the company has many years of potential growth ahead of it.
But there remain big areas where Zuckerberg – whose outfit saw profits fall in its last quarter – could yet stumble. Facebook isn't operating in China right now, but would like to in order to grow its now-slowing userbase, which is closing in on 1 billion people signed up to the network.
The company has yet to make any cash out of serving ads via mobile devices, even though Facebook's app is heavily used on smartphones.
It did begin inserting so-called "sponsored stories" into its News Feed function on the network in March this year, which means that investors will get a quick peek at what sort of revenue Facebook might be able to derive from mobile ads only after the roadshow has packed up and gone home. ®