The Nevada Department of Motor Vehicles has issued the first license plates that will allow Google's autonomous cars onto public highways.
Nevada is the first state to devise licensing procedures for autonomous vehicles, and Google is the one of the leaders in that field, having hired some of the top talent that took part in the DARPA Grand and Urban Challenges. Google's fleet will have red Nevada license plates with a Greek infinity symbol, intended to alert other drivers that a computer has control of the vehicle.
"I felt using the infinity symbol was the best way to represent the 'car of the future'." Department Director Bruce Breslow said in a statement. "The unique red plate will be easily recognized by the public and law enforcement and will be used only for licensed autonomous test vehicles. When there comes a time that vehicle manufacturers market autonomous vehicles to the public, that infinity symbol will appear on a green license plate."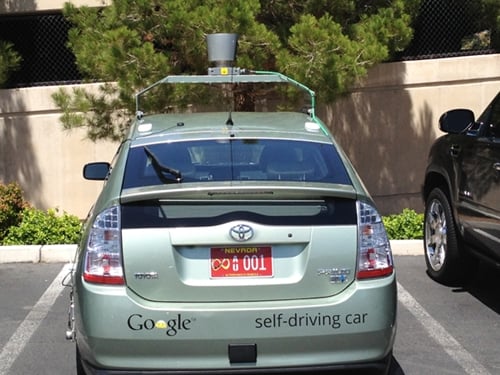 The driver is a PC – no jokes about Windows 'crashing', please
Google has a variety of vehicles in its riderless fleet, including six Toyota Priuses, an Audi TT, and a Lexus – does no one buy American these days? – and has been leaking information about their capabilities for some time. The cars have been spotted across America, always with a driver for emergencies, and usually with a technician in the front seat monitoring the computer systems.
Ultimately, the Chocolate Factory will be looking to license the technology to other auto manufacturers, and several have their own programs in place to develop similar systems. But it's going to take a long time before such systems gain popular acceptance, and may require financial incentives to do so.
It's taken years for people to trust computers for handling their bank accounts and medical information, and many people feel nervous about riding in a ton or so of metal piloted by a computer that could take crashing a bit too literally. But if the system works – and works well – insurance companies are going to love it, and will offer a hefty discount to encourage adoption.
While the prospect of losing control of the vehicle might drive Jeremy Clarkson and other petrol-heads wild, it will at least give drivers a new vein of insults to mine while on the road. How long before cries of "Who programmed your car - a Redmond reject?" may soon echo over the freeway. ®
Similar topics