Old-school Mars rover Opportunity has found "clear evidence" of water in the first four months of tootling around the rim of the Endeavour Crater.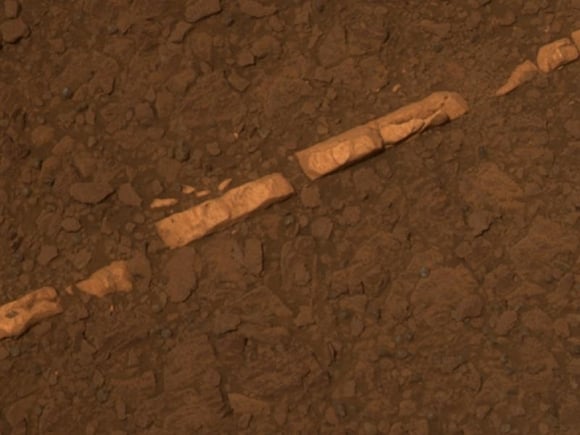 A vein of calcium, sulphur and gypsum. Credit: NASA/JPL-Caltech/Cornell/ASU
The crater is around four billion years old and 22km across and has been a long-term goal of the rover for three years now.
The impact that created Endeavour left a jumble of fused rock fragments around the rim. Later, a much smaller impact brought a chunk of rock to the surface for Opportunity to find.
The rover discovered that the first impact had released heated underground water that deposited zinc in that rock, while after the impact, cool water flowed through cracks in the ground and left traces of gypsum.
"These bright mineral veins are different from anything seen previously on Mars, and they tell a clear story of water flowing through cracks in the rocks," said Steve Squyres of Cornell University, principal investigator for Opportunity.
"From landing until just before reaching the Endeavour rim, Opportunity was driving over sandstone made of sulfate grains that had been deposited by water and later blown around by the wind.
"These gypsum veins tell us about water that flowed through the rocks at this exact spot. It's the strongest evidence for water that we've ever seen with Opportunity."
Squyres and 27 other boffins got together to publish the report on Opportunity's findings in Science.
Opportunity completed its original three-month mission on the Red Planet eight years ago but still managed to reach the Endeavour rim last summer. For the past four months it has been working at Greeley Haven at the rim of the crater, but reduced daylight during the Martian winter and accumulated dust on the rover's solar area have meant that its energy supplies are too low for driving.
"The days are now growing longer, and the Sun is moving higher in the sky at Endeavour Crater. We expect Opportunity to resume driving in the next two months and continue exploring other parts of the crater's rim," said manager John Callas at NASA's Jet Propulsion Laboratory.
Researchers are hoping that Opportunity can get to one of the deposits of clay minerals that have been detected at the rim by observations from orbit, which could be more evidence of a non-acidic wet phase in the planet's history.
NASA's newest rover Curiosity was launched last year and is expected to reach the Gale Crater in August for its mission to discover if the region could have environmental conditions favourable to supporting microbial life. ®