Intel Ivy Bridge Core i7-3770K quad-core CPU
The generation game
Board room shuffle
With a new processor, you obviously need something to stick it into, and I have here the DZ77GA-70K motherboard, part of the Intel's Extreme series of motherboards. Intel has a wide portfolio of boards - there are seven series that cover the desktop range alone, and there are other product lines for workstation and server use.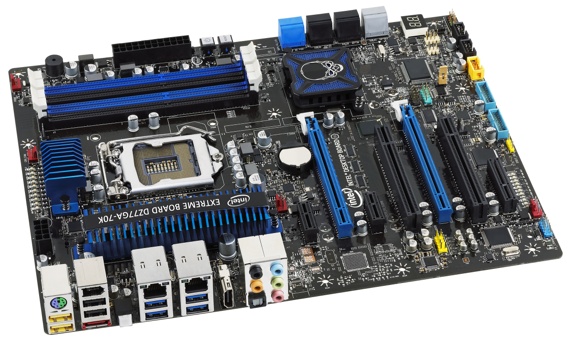 At last, SuperSpeed USB 3.0 ports. Hurrah!
There's nothing eye-opening about the DZ77GA-70K, apart from the Bios, but more on that in a minute. It's a typically stable high-end Intel board. It's based around the new Z77 Express chipset which brings native support for USB 3.0 - finally!!! - along with PCI Express 3.0, provided there's an Ivy Bridge CPU sitting in the socket.
It's a tidy looking board, well laid out with separate passive coolers on the chipset and the power components with two PCIe 3.0 x16 (x16/x8) slots, single PCIe x4 and x1 slots, and two standard PCI slots for expansion purposes. For storage there are four 6Gb/s and four 3Gb/s Sata ports, which are all mounted at 90° on the edge of the board.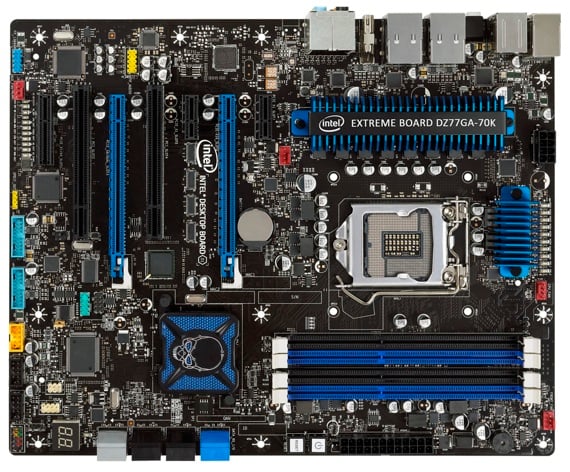 Intel's DZ77GA-70K has no shortage of expansion slots
The new Intel Visual Bios is a revelation and even gives Asus and Gigabyte - which have some of the easiest to access UEFI Bioses around - a good run for their money. UEFI (Unified Extensible Firmware Interface) has been around for a while. For those not in the know, it uses a GUI instead of the text interface and does way with the need to use the keyboard, instead allowing the use of a mouse, Yes, a mouse. Or a touchscreen even, it'll support that too.
Verdict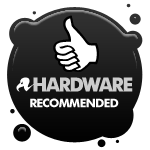 The Ivy Bridge Core i7-3770K doesn't make a giant leap ahead of the previous generation of Core i7 chippery. It's more of gentle step forward. But the die shrink down to 22nm does make for a far more power efficient chip than the previous generation - good for your leccy bills - and at last Intel's integrated graphics supports DirectX 11, something it has needed to do for quite some time. ®

Intel Ivy Bridge Core i7-3770K quad-core CPU
The Core i7-3770K and the DZ77GA-70K mobo combination is the ideal spotlight for Intel's new Ivy Bridge technology.